Forces ask Dera followers to vacate Sirsa HQ as 31 die in violence after Ram Rahim's conviction
IANS, Chandigarh |
, Sirsa/chandigarh/delhi
Agencies
Aug 26, 2017 01:59 PM IST
Flag marches held by Army on Saturday morning in 10 places in southwest Punjab's Malwa belt and Panchkula and Sirsa towns in Haryana.
Security forces, including the army, asked an estimated one lakh followers of Dera Sacha Sauda to vacate the controversial sect's headquarters in Haryana's Sirsa on Saturday, a day after violence over the conviction of its chief Gurmeet Ram Rahim Singh in a rape case singed the state and left 31 people dead. (Live updates)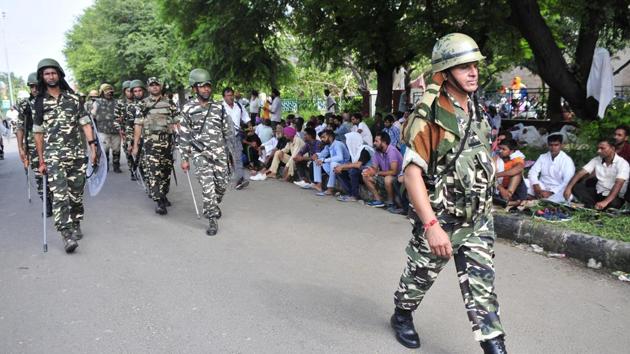 Union home minister Rajnath Singh also held a high-level meeting to review the security situation in Haryana. Officials said Singh met the national security advisor Ajit Doval, home secretary Rajiv Mehrishi, Intelligence Bureau chief Rajiv Jain and ministry officials at his residence in Delhi.
The home ministry described the situation Panchkula and Sirsa as "very tense but under control".
Lakhs of followers of the 50-year-old cult leader went on the rampage in Panchkula, where a CBI court convicted Singh in the 15-year-old case, and other places of Haryana -- setting vehicles on fire, damaging residential and business properties and waging pitched battles with security forces.
A video tweeted by news agency ANI showed army, rapid action force and police personnel moving on foot and on vehicles along a road, purportedly towards the Dera premises, as authorities intensified a crackdown on the cult leader's followers, a day after largescle violence left at least 31 people dead across Haryana.
Sirsa sub-divisional magistrate Paramjit Singh Chahal, however, said the army has not been given orders so far to enter the Dera headquarters.
"There is still no order for the army to enter the campus. They are only ensuring enforcement," he said.
Two ashrams of Dera Sacha Sauda were sealed in Haryana's Kurukshetra on Saturday and several cult members were detained as part of the crack down, officials said.
Defiant followers of the self-styled godman stayed put despite appeals by the army and authorities since Friday to vacate the premises.
The army, which had put up barricades at entry points of the Dera premises following the violence, was mulling its options, said a senior official, who did not wish to be named.
"We will not spare those who have taken the law in their hands. We will take strict action against then," Hisar range inspector general AS Dillo said outside the Dera premises
The sect members at the presmises include women and children.
Sources said the army has been provided with the map of the sprawling dera campus, which is spread over nearly 1,000 acres and is a township on its own, with schools, sports village, hospital and cinema hall.
Dera followers had arrived in droves ahead of the CBI special court verdict.
The quantum of sentence against the self-styled godman, who enjoys z-category security, will be pronounced on August 28.
Two of the civilian deaths on Friday were reported from Sirsa, where the cult has its sprawling headquarters. Most of the deaths were due to firing by police to control the rampaging mobs.
In Sirsa, police detained 15 Dera followers since Friday night even as the authorities appealed to over one lakh supporters still present in the sect headquarters to vacate the premises, superintendent of police Ashwin Shenvi said.
The 15 are among more than 1,000 supporters detained on charges of arson and destruction of public property.
"The law and order situation is under control as there has been no report of violence since last night," a senior police officer said.
Two companies of army and 10 companies of paramilitary forces have been deployed in the town and residents asked to stay indoors.
Meanehile, authorities in Punjab and Haryana on Saturday relaxed curfew in some towns to enable residents to buy essentials.
In Punjab, curfew was relaxed in Patiala, Bathinda and Ferozepur towns for four hours, while in Haryana it was relaxed in Kaithal town.
In Haryana's Fatehabad town, the Army was deployed to assist the paramilitary and police personnel in maintaining law and order.
A spokesman for the sect urged supporters to remain calm.
"I just want to request everyone to maintain peace at the moment," said Dilawar Insan. "We will explore what legal options are available to us."
The sect claims to have about 50 million followers and campaigns for vegetarianism and against drug addiction.
After his conviction, Gurmeet Singh was lodged in a make-shift jail at Sunaria in Rohtak amid tight security.
After reports of the Dera chief being given special treatment surfaced, the director general of police (prisons) said Singh is being treated as a normal prisoner.
"The Dera chief has been locked up in the district jail... is being treated like a normal prisoner according to the Haryana jail manual," KP Singh said.