Gurmeet Ram Rahim held guilty of rape, supporters run riot, 30 killed in Haryana violence
Aug 26, 2017 07:41 AM IST
As news of the Gurmeet Ram Rahim's conviction spread, there were reports of violence in the neighbouring state of Punjab and also in Delhi and Uttar Pradesh.
At least 30 people were killed on Friday after followers of controversial "godman" Gurmeet Ram Rahim Singh rampaged across Haryana and Punjab, clashing with police and setting fire to vehicles and railway stations to protest against his conviction in the 2002 rape of two women. (Updates)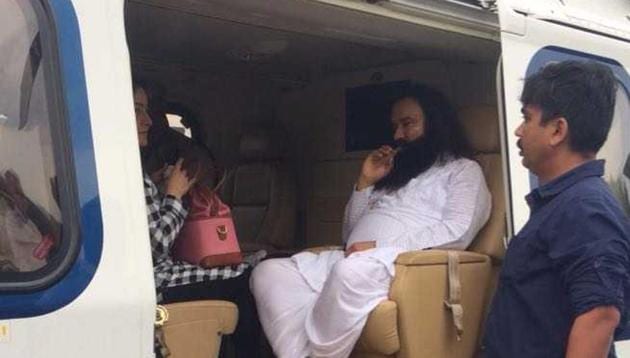 Police said most of the deaths occurred in Panchkula, where Singh, the head of the Dera Sacha Sauda sect, was convicted in a highly guarded CBI court earlier in the day. Two deaths were reported from Sirsa, the sect's headquarters. At least 200 were injured.
Minutes after the verdict, the flashy guru's hysterical followers, who had gathered in the thousands to protest his innocence, began targeting vehicles and offices with sticks and stones, turning the streets of Panchkula into a virtual war zone. They also set fire to a petrol pump, vandalised a five-star hotel and beat up journalists and damaged their vehicles and equipment. Plumes of smoke from burning vehicles and tear gas shells rose high above the town's tree-lined streets.
Police first used batons and water cannons, and finally fired to disperse the followers of Singh, a burly man with black Santa Claus beard who has scripted and starred in his own films.
Vivek Bhadu, the chief medical officer at the civil hospital in Panchkula, said most of the deaths were from bullet wounds.
Violence was also reported from beyond Haryana. The railway stations in Malout and Balluanna in Punjab were partially burned down, police said. A power station near Mansa, also in Punjab, was attacked and two vehicles were torched there. In Rajasthan's Ganganagar, a vehicle was burnt.
Arson was also reported from several places in Delhi, where the assembly of more than four people was prohibited.
As the clashes intensified, the Punjab and Haryana high court said the sect will have to compensate for the losses and sought a list of its properties. More than 1,000 Dera followers were arrested.
The CBI court will announce the quantum of punishment for Singh on August 28. Singh faces up to seven years' in jail. He was taken into custody by the Haryana police, and was transferred to a jail in Rohtak in a chopper.
Late evening, Prime Minister Narendra Modi tweeted: "The instances of violence today are deeply distressing. I strongly condemn the violence (and) urge everyone to maintain peace."
Congress vice president Rahul Gandhi also condemned "the rampage and lawlessness in Haryana" and called for peace.
Fears of mass unrest over Singh's trial grew earlier this week after some 50,000 of his supporters gathered and stockpiled weapons at the cult's headquarters in Sirsa, where he repeatedly raped two women followers 15 years ago.
Singh is the latest among several self-styled godmen accused of rape and other crimes. Another guru with millions of followers, Asaram, and his son are also in jail on rape charges.
Singh is also under investigation over allegations that he convinced 400 male followers to undergo castration so they could get closer to god, a charge he denies.
(With inputs from Tanbir Dhaliwal and Gagandeep Singh)