Rapid fall in groundwater level in Punjab, Haryana
May 25, 2018 02:29 PM IST
Decadal data shows worrying trend with 82% of Punjab and 76% in Haryana areas seeing a decline in groundwater level.
The rapid rate at which groundwater levels have dipped across Punjab and Haryana has experts worried.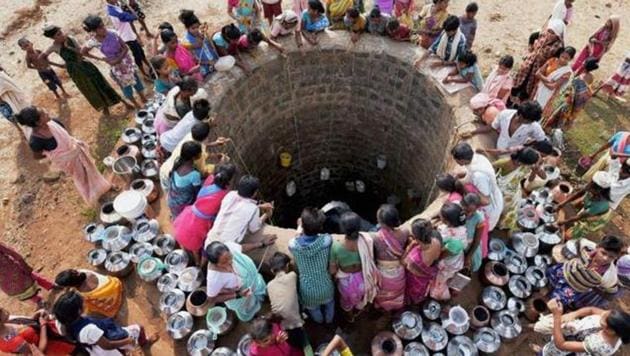 The Central Ground Water Board has found that 82% of Punjab areas and 76% in Haryana have seen a substantial fall in the water level. This is based on the board's data compiled between 2006 and 2015 followed by findings gathered in 2016 and 2017 for the two agrarian states.
When contacted, Anoop Nagar, the director for the board's northwest region, said: "It is not the level of groundwater that is alarming but the speed with which it is going down that needs to be addressed immediately."
The rapid decline in Punjab has been observed in Amritsar, Tarn Taran, Kapurthala, Jalandhar, Ludhiana, Fatehgarh Sahib, Moga, Barnala, Sangrur, Patiala and Mansa districts. "The decline of up to two metres has been seen in 55% of the wells, while the water level fell by two to four metres in 21% of the wells and by more than four metres in 7% of the wells," he said.
Data from May 2016 to January 2017 shows the deepest water levels in Fatehgarh Sahib, Ludhiana, Rupnagar, Sangrur and the Kandi belt of Hoshiarpur.
"These regions have shallow levels and water-logging but this water is of no use because of high salinity," Nagar said.
Sharing the decadal data for Haryana, Nagar said 55% of wells showed a water level decline of up to two metres, while 13% of the wells saw a fall of up to four metres and 8% of the wells more than four metres.
Moderately deep water levels of 10-20 metres were seen in 29% of the area surveyed, while deep water levels of 20-40 metres were found in 25% of the area and very deep water levels of more than 40 metres occurred in 7% of the area in Kurukshetra, Kaithal, Bhiwani and Mahendragarh districts besides isolated patches in Fatehabad and Sirsa districts.
Experts say earlier farmers followed the maize-wheat or sugarcane-maize-wheat cropping pattern but for the past four decades they have shifted to the wheat-paddy cycle, causing unprecedented exploitation of groundwater for irrigation.
The increasing number of tubewells is proof of the worrying trend.
As a solution, Nagar suggests an integrated water management strategy, including drip irrigation, besides change in cropping pattern and banning early plantation of paddy so that the monsoon run-off can be used to irrigate fields.
"We have started pilot projects for artificial recharge of groundwater and rainwater harvesting. It can be replicated by the two states," he added.