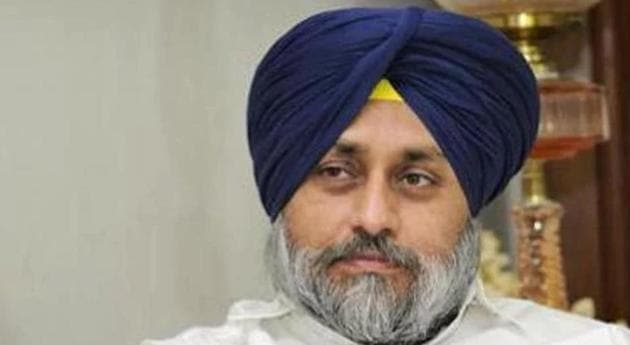 SAD now points out 'gaffes' in Class-12 book, demands apology, review
SAD president Sukhbir buttressed the charge of "deletion" of large portions of Sikh history from the Class 12 book.
UPDATED ON MAY 03, 2018 11:11 PM IST
Former deputy chief minister Sukhbir Singh Badal on Thursday pointed out "serious goof-ups" in the history book for Class 12 published by the Punjab School Education Board, and demanded that the state's Congress "accept the mistake, apologise, and set up a committee to rewrite the book". This comes close on the heels of an ongoing controversy over alleged deletion of some chapters about Sikh history and gurus from the syllabus.
At a press conference here, the Shiromani Akali Dal (SAD) president first referred to the Komagata Maru incident, and said the book's content "misrepresents the dates" and is "factually also incorrect". Former education minister Daljit Singh Cheema said there is no mention of Komagata Maru as a part of India's freedom movement.
In the context of revolutionary freedom fighter Bhagat Singh, Sukhbir pointed out, the book says: "For his plans he used to loot banks and post offices and he justified derailing of trains." History of Baba Banda Singh Bahadur also has been wrongly presented, alleged Cheema.
Sukhbir further said that in the book Mughal emperor Aurangzeb and raider Ahmed Shah Abdali, and the history of Congress, "have taken prominence over the gurus". "It is not acceptable to any Punjabi or a Sikh. A cabinet or a government or a CM of a state has no right to undermine the gurus' legacy," he said, after a meeting of the SAD's core committee. He said the committee decided for the entire party leadership and workers to meet in Amritsar to announce further course of action.
On Friday, senior Akali leaders will meet governor VP Singh Badnore to lodge protest and seek action, the party said.
Sukhbir also buttressed the charge of "deletion" of large portions of Sikh history from the Class 12 book. The government has said the chapters have been moved to Class 11 instead.
"In comparison to the previous book, which had 97 pages dedicated to Sikh history, the new one has only 24 lines about it in the entire book; and 13 chapters have been reduced to one," said Sukhbir, terming the Congress "anti-Sikh".
Referring to Congress ministers' threat at a press conference, held to defend the books, to initiate inquiries against former education ministers in the Akali-BJP government (Cheema and Sikander Singh Maluka), Cheema said he is ready to face the consequences. Former minister Bikram Singh Majithia and party leaders Balwinder Singh Bhunder, Ranjit Singh Brahmpura and Jagir Kaur were also present.
Close