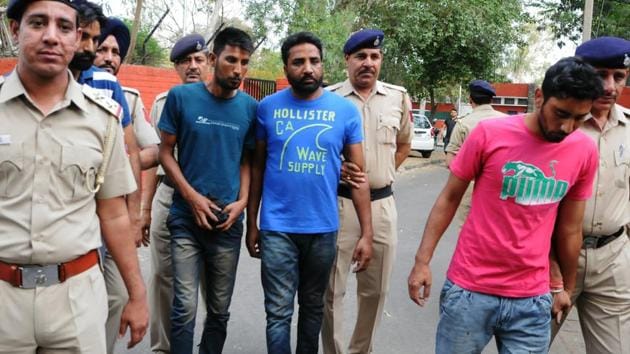 Serial carjacker Yodha Singh, his three accomplices arrested by Chandigarh crime branch
As per police, as a professional wrestler, Yodha won the Punjab Kesari title (wrestling champion) before he took to drugs and got sucked into the crime vortex.
Hindustan Times, Chandigarh | By HT Correspondent
UPDATED ON APR 05, 2018 11:23 PM IST
Wanted for a series of carjackings, kidnappings and robberies over the past year, Yodha Singh alias Jodha, 24, and his three accomplices were arrested by the Chandigarh crime branch on Thursday.
Police had been on Yodha's lookout since he gave them the slip on February 6.
Apart from Yodha, the gang's kingpin, cops arrested his elder brother Gulab Singh, 28, brother-in-law Amrik Singh alias Mikka, 34, and Devender Singh alias Heer Singh, 32.
With the arrests, police claim to have cracked four cases of carjacking, robbery and kidnapping between January 22 and March 21. These include the March 21 robbery where an Ola cab driver was robbed of his Hyundai i20 at gunpoint near the furniture market in Sector 54, Chandigarh.
A crime branch team led by inspector Amanjot Singh intercepted the accused at Jeer Mandi, Maloya, following a tip-off. They were travelling in a Maruti Swift DZire.
"The arrest of these criminals will lead us to more recoveries and unearthing of a network between criminals and drug peddlers," said Harjit Kaur, deputy superintendent of police (DSP), crime branch.
Inspector Amanjot Singh, in-charge, crime branch, UT police, said, "The four men are drug addicts. They turned to crime to make easy money for their daily dose of high-quality heroin."
"A professional wrestler, Yodha won the Punjab Kesari title (wrestling champion) before he took to drugs and got sucked into the crime vortex," added Singh.
The gangster and his brother Gulab Singh were sentenced to 10 years in jail in a case of Narcotics Drugs and Psychotropic Substances Act in Jalandhar's Shahkot last year. However, he secured bail through the Punjab and Haryana high court and returned to crime.
Returned to crime after giving police the slip
Last arrested on January 6, Yodha fled from the custody of Chandigarh Police at Khanna on February 6, afraid of spending his life in prison.
He was being brought back to Chandigarh from a court hearing in Faridkot, and escaped from custody after requesting cops to stop their vehicle at a petrol station, saying he wanted to relieve himself.
A police official, privy to the investigation, said after fleeing, Yodha took a lift in a truck to Nakodar near Jalandhar. There he borrowed a mobile phone from a farm labourer and contacted his brother-in-law Amrik Singh, who was already on the run after escaping from Nayagaon police custody.
On regrouping in Jalandhar's Shahkot, the duo aligned with Gulab Singh and Devender Singh, a member of the Davinder Bambiha gang.
A dreaded gangster, Bambiha was shot dead in a police encounter in Rampura Phull, Mansa, in September 2016.
Devender is facing multiple charges of murder, attempt to murder, rape and robbery in Punjab and Chandigarh.
Took to crime to fund drug addiction
A Class-8 dropout, Yodha Singh alias Jodha, 24, took to petty crimes to fund his addiction to drugs.
The lure of easy money and influence of other gangsters in prison saw him take to bigger crimes, including car theft, burglary and kidnapping.
His family, that hails from Bheopur village in Shahkot, Jalandhar, seems to have influenced him as his father was a drug peddler and his brother-in-law and cousins are also reported to be carjackers. His sisters are known to provide him shelter when he goes into hiding after committing crimes, police said.
Close