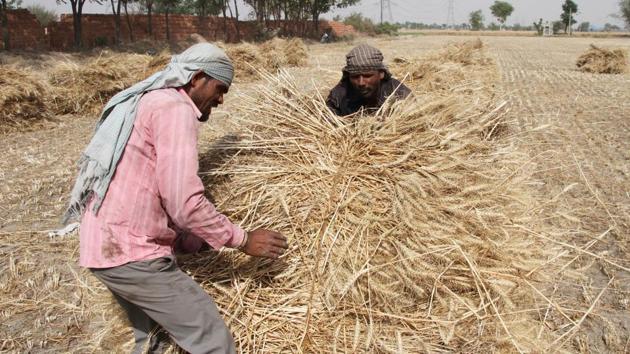 Stubble burning cases dip 30% over last year
785 cases till May 1: Soaring wheat husk prices, delay in paddy transplantation start means farmers have time to adjust the straw; last year, the number of cases was over 1,100.
UPDATED ON MAY 04, 2018 10:11 AM IST
Soaring wheat husk prices and delay in paddy transplantation to June 20 has meant that the number of stubble burning cases till May 1 this wheat season has dipped 30% over the corresponding period last year.
Against 1,119 cases recorded in 2017, this year has seen only 785 cases. Officially, the National Green Tribunal has banned the burning of straw after harvesting.
The government claims that this is the result of its drives to check stubble burning, but farmers are simply cashing in on the opportunity to make some money as there has been a spike in prices of wheat husk, used as fodder for animals. The husk is fetching farmers around ₹5,000 a trolley.
"There is, of course, money to be made if stubble is turned into wheat husk. With the government delaying the paddy transplantation to June 20, we have ample time to adjust straw in our fields. This is also a reason for the lower number of stubble burning cases this year," said Jagdev Singh, a farmer of Daun Kalan, in Patiala. "There has been only one stubble burning case from my village," he adds.
Sangrur reports most cases at 65
This year, the maximum number of stubble burning cases have been reported from Sangrur district (65). The district has topped the country in wheat yield (produce per hectare) in 2017 and 2016. Overall, the state reported 43,660 cases of stubble burning in 2017, against 80,879 cases in 2016.
Before harvesting started, the agriculture department and the Punjab Pollution Control Board (PPCB) started an awareness drive to check stubble burning. Super Straw Management equipment and self-propelled combine-paddy harvesters were made mandatory.
"We have been proactive. The maximum number of cases has been reported from April 28 to May 1. Apart from Sangrur, Bathinda, Fazilka and Ferozepur have also reported cases. As per policy, farmers have been fined," said Charanjit Singh, PPCB spokesperson. He added that with harvesting completed, PPCB teams were visiting fields to check stubble burning.
Meanwhile, the PPCB has issued another advisory to farmers not to burn straw. "Mixing straw with earth is advisable as it leads to the soil needing lower amounts of fertiliser. The burning of one tonne of straw leads to a direct loss of 45-kg nitrogen, 23-kg phosphorus and 1,220-kg potassium," the advisory adds.
Close