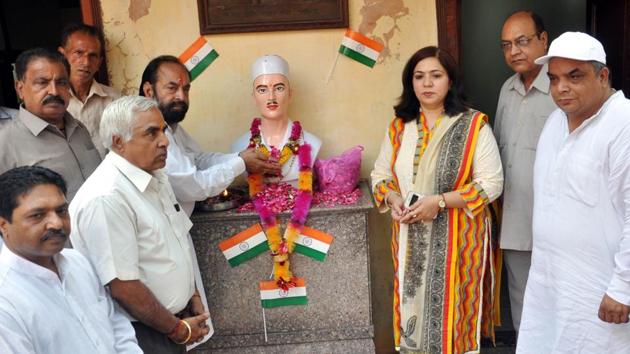 Sukhdev's 110th birth anniversary: Two groups spar over claim of being freedom fighter's kin
Sukhdev was 23 years old when he was hanged by the British along with Bhagat Singh and Rajguru on March 23, 1931.
UPDATED ON MAY 15, 2017 07:22 PM IST
A major controversy broke out at a state-level function to mark the 110th birth anniversary of freedom fighter Sukhdev, when two groups exchanged heated arguments over their claim to be the revolutionary's kin. Sukhdev was 23 years old when he was hanged by the British along with Bhagat Singh and Rajguru on March 23, 1931.
Vinod Thapar, who claims to be Sukhdev's descendant, came from Jalandhar. He said there were groups who made false claims of being distantly related to Sukhdev "for political and financial gains".
"These people are not interested in propagating his [Sukhdev's] ideology but only want to fulfil their ambitions by using his name," he said.
Vinod was accompanied by Subhash Thapar; they both entered into an argument with Vishal Nayyar, who claims that he is the actual heir of the freedom fighter.
Vishal said the state government should hold an inquiry to find out the truth about Sukhdev's bloodline. Vinod and Subhash claimed that it was not a question of who the actual relatives were but the freedom fighter's respect should remain intact and not be sacrificed at public forums.
Vishal claimed that his mother was directly related to Sukhdev but "some people with their own interests are not letting this truth come out".
One of the groups claimed that they were not allowed by the district administration to speak on the occasion while several Congress MLAs and other leaders expressed their views. Even junior leaders of the Congress were seated in the front row on stage.
Cabinet minister Tripat Rajinder Singh Bajwa was the chief guest at the function.
Bajwa claimed that he will visit Sukhdev's birthplace at Naughara Mohalla near Chaura Bazar but did not turn up.
Eponymous trust holds own function
All-India Shaheed Sukhdev Thapar Memorial Trust, an organisation formed by another group of claimants, boycotted the function and organised an event at Sukhdev's birthplace.
Trust president Ashok Thapar said officials from the district administration visited him to invite him for the official function at 7pm on Sunday. "This clearly shows how serious they are that we were informed an evening before the function," he said.
Political leaders visit freedom fighter's home
Members of political and religious organisations made a beeline for Sukhdev's ancestral home at Naughara Mohalla to pay their respects. The trust organised an event and held a prayer ceremony after which they distributed food among the poor.
Claims not backed by government
There are not two but three groups that claim to be Sukhdev Thapar's kin. While there is no official record with the government, they invite two groups to the birth anniversary function every year.
BLURB: One of the groups claim that they were not allowed to speak on the occasion while several Congress MLAs and other leaders expressed their views
Close