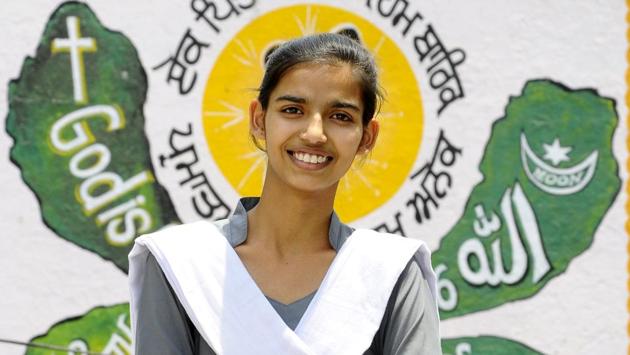 Turning 18 with HT: 'Don't believe in destiny, hardwork is my religion'
Simranjit Kaur believes India lacks proper implementation of rules and fair distribution of rights that hinder its progress as a nation.
Hindustan Times, Chandigarh | By Ribha Sood
UPDATED ON JUN 07, 2018 02:22 PM IST
Simranjit Kaur
Born on June, 28, 2001
Badge of honour: Head girl, Government Model Senior Secondary School, Kharar, SAS Nagar, Punjab.
What turning 18 means to me
It's the period of nervousness and anxiety when we have to decide on a future course of action. Turning 18 means becoming more responsible in life and work.
What I want to be and why
I want to do my higher studies in physics from a good foreign university. I prefer Canada for higher education. In India, knowledge is imparted theoretically. I am interested in applied physics, for practical use.
My idea of India
India has both good and bad points. There are myriad festivals in India celebrated by people with unity and love. The government of our country provides free education to the poor. However, the country lacks proper implementation of rules and fair distribution of rights that hinder its progress as a nation.
What makes me happy
Talking to my parents and spending time with them makes me happy. Besides, music and badminton add joy to my life.
What makes me angry
I don't get angry easily but if someone underestimates my potential or puts me down I feel very angry.
My fear and fantasy
Taking a wrong decision in life scares me as the wrong choice can turn one's life upside down. I fear separation from my parents as well. I fantasise about becoming a math teacher one day.
Am I happy where I am?
Yes. I have taken some key decisions in life by myself. My parents have always supported me. It was I who chose science for higher education and I am happy with that.
What money means to me
In today's world, nothing is possible without money. Money buys respect. I want to earn a lot to enjoy life to the maximum. I want to do everything that my heart desires.
What makes me proud of India
Indian freedom fighters who lost their lives for the nation make me proud of India. The fact that people from different cultures and religions live together and celebrate festivals with harmony is a matter of pride. I feel proud of the government running welfare schemes in education for the poor.
What I can't live without
I can't live without my parents, especially my mother Parkash Kaur.
What social media means to me
Social media is a great platform to share thoughts, ideas and information with people miles away. I see it as a treasure box of knowledge where one can learn about anything and everything.
Change I'd like to see in my city
There's nothing that I wish to change in Chandigarh. It's just perfect.
What religion means to me
I believe in God. Only God and parents show us the right path in life. All religions guide us to believe in God. Religion to me is working hard to make things possible. I don't believe in destiny.
My role model and why
My cousin Jatinder Kaur, studying Biotechnology in Canada, is my role model. An intelligent student, a good daughter, an independent lady, she is everything that I want to be. I want to follow her footsteps and make my parents proud.
Close