Video: 52-year-old granny is Uber's first female driver for bike taxi in Punjab
Paramjeet Kaur, a grandmother who will be riding a scooter, is all smiles as she tells you about the rousing response she is getting from her clients.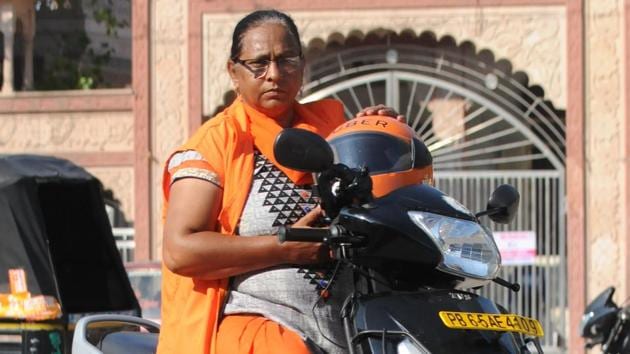 Updated on Jul 26, 2017 11:47 PM IST
A 52-year-old grandmother from Mohali's Phase 11 is among the 100 bike taxi riders who started operating in Mohali, Kharar and Zirakpur on Tuesday as part of the Punjab government's 'Apni Gaddi, Apna Rozgar' programme.
The bike taxis, launched in partnership with Uber, were flagged off by finance minister Manpreet Singh Badal at the Indian School of Business here. Chief minister Captain Amarinder Singh could not attend the event due to his mother's demise on Monday.
Paramjeet Kaur, who rides a scooter, is all smiles as she tells you about the rousing response she is getting from her clients.
"A senior citizen I ferried on Monday as part of test run commended me for taking this step. He said more women should step out," beams Paramjeet, dressed in the traditional Punjabi attire salwar kameez.
She is mother of three children. His elder son has a three-year-old daughter. Her daughter, married in Shimla, is also expecting a baby soon. Her youngest son is studying.
"Though my family asked me not to slog hard at this age, I thought it is a good way to supplement the family income. I am very happy to become part of the new taxi service," she adds.
Life hasn't been a bed of roses for Paramjeet, who lost her husband in her youth. But she always remained a fighter even as she had a tough time raising her children.
Asked how she got to know about the bike taxi service, she says her car is already associated with Uber. "Some time ago, I got a message flashed on my mobile about the company's new bike taxi service in Punjab. A little hesitant initially, I accepted the offer later."
Asked if she has any apprehensions about her new role as she will have to deal with all kind of clients, Paramjeet says life is always full of challenges. "I am quite sure that people will be nice to me and appreciate my hard work."
Regarding her driving skills, she says she has been riding scooter for the past 10 years and the company experts trained her thoroughly before she hit the road as bike taxi driver.
Paramjeet, who will be paid on hourly basis, says she is happy with the terms and conditions of the company. "They have given me a target of six rides a day. But in case, my target is not met till late night, it can be transferred to another driver."
Zirakpur woman takes challenge too
Madhu Bala, who belongs to Zirakpur, is another female bike taxi driver. She is already a part-time accountant and an LIC agent. Her husband is in a private job and helps her too.
A mother of 11-year-old son, Madhu says the passion to do something different in life has motivated her to take yet another job.
"It's a mistaken belief that women are only meant to do domestic work. I think women are no way lesser than men," she says.
Speaking on the occasion, Manpreet said that it was one of the series of initiatives the Congress government plans to undertake as part of its pre-poll promise to provide 25 lakh jobs in next five years.
This scheme will employ at least 1 lakh young people every year and the government plans to partner with more companies of different spheres in order to generate employment.
Notably, Ola will also launch bike taxi service in several cities of Punjab, including Mohali, in partnership with the Punjab government. Their test run is currently going on.
How to opt for bike taxi service
-Download Uber Moto App and create an Uber account on your mobile
- After placing a request for a ride, you will get name, photo and details of the motorbike.
-Taxi driver will bring a helmet for the rider too
- You can pay by cash, credit/debit card or mobile wallet and will receive an electronic receipt via the Uber app.
- The basic fare is Rs 15 and the susequent charges will be Rs 3 per km
Close Story