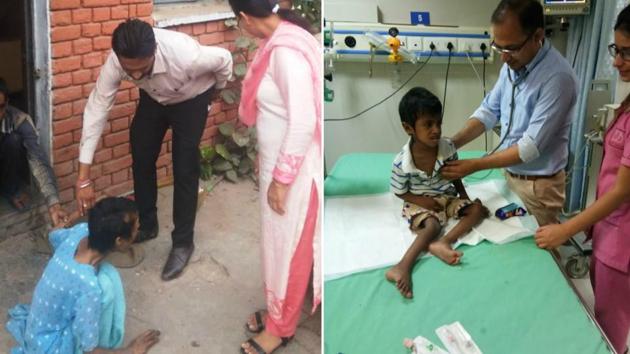 Ludhiana woman, 7-yr-old child locked up by stepson for past year rescued
Ludhiana legal aid team rescued the woman and her child after a tip off from a resident of the area
Hindustan Times, Ludhiana | By Aneesha Sareen Kumar
UPDATED ON APR 06, 2018 10:48 AM IST
A Ludhiana District Services Legal Authority (DLSA) team on Thursday rescued a 50-year-old woman and her seven-year-old child who were in confinement for the past one year at house in CRPF quarters in Dugri.
The DLSA team discovered that the mother, Sudha, and child were locked up by her 30-year-old step son.
The house was raided by a team comprising the Ludhiana civil surgeon, a psychiatrist and an advocate after chief judicial magistrate and DLSA secretary, Gurpreet Kaur, received a complaint from a resident of the area.
On entering the house, the team found Sudha lying naked on the bed and shivering. She was surrounded by urine, rubbish and faeces. She was unable to stand, and could barely crawl.
The child, Shiva, was found in another room, also surrounded by filth. He was dehydrated and underweight, probably near-death, and could not even move, according to authorities.
Sudha was apparently depressed after her husband, a PWD employee, died last year.
"Until last year, the boy was happy and went to school. Everything changed after his father's death. The stepson used to lock them up as he did not want them to run away. The mother made several failed attempts to commit suicide. Once, she even tried to immolate herself," CJM Gurpreet Kaur said.
"We questioned the stepson, but he also is mentally unfit," said a member of the raiding team. The team found that he used to drop off some food at the house occasionally, but had not visited them for the past few weeks.
The child has been admitted to Deep Hospital in Dugri and is being given free medical aid. The woman was admitted to the civil hospital. The DLSA team will soon draw up a plan to rehabilitate the accused.
DLSA team questions neighbours
Members of the DLSA team questioned neighbours on their indifference towards the plight of the duo.
"We censured them for their behaviour, as they were aware that two people had been locked up like animals and chose not to help. Some of the them said they served food to the duo for some time, but stopped after learning that the woman was mentally unstable," said a DLSA team member.
Close