Jharkhand to use 'dung-decay' method for jumbo count
Feb 28, 2017 11:49 AM IST
The forest wing of government of India has selected Jharkhand's Palamu Tiger Reserve (PTR) to apply the method under the all India elephant census proposed to begin in June
The 'dung-decay' method will be used for the first time in Jharkhand for the jumbo count. The forest wing of government of India has selected Jharkhand's Palamu Tiger Reserve (PTR) to apply the method under the all India elephant census proposed to begin in June.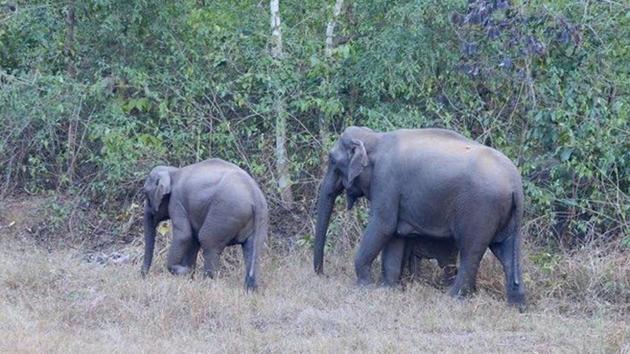 "This is new method of elephant count, which was first used in south India. Now, the central wing of forest wants to apply the method in census across India. For this, Palamu tiger reserve has been selected," LR Singh, principal chief conservator of forest (wildlife) said, adding, direct sighting method will also be used in the census for more accuracy.
To draft the modalities of elephant census, a two-day meeting of eastern states, including Jharkhand, Bihar, Chattisgarh, West Bengal and Odisha is also scheduled on March 10-11, Singh said.
"The elephant census would be carried out in the region at one time to avoid repetition in the count, as population of migratory elephants is high in the region," PCCF said.
PTR director MP Singh said the dung-decay method is used to get more accurate data. "In direct sighting method, it is possible that some elephants are missed due to their non visibility in dense forest. With dung-decay method, we will get more accurate figure," he said.
Explaining the method, Singh said that various factors are observed in the method including dung density, decay rate and defecation rate. "Fresh piles of elephant dung is marked in an area. Thereafter, photograph is taken and GPS location is recorded. The marked dung area is revisited after a certain period to understand decay rate of dung," he said.
Under the new method, 15 fresh dung piles of elephant herd are tracked over 15-day intervals and seven to eight sets of piles are identified and monitored. The dung pile is kept under watch till it vanishes as part of bio-decomposition. Singh said experts use set formulas to identify number of elephants through dung decay rate.
Jharkhand had recorded pachyderm population at 688 in 2012 census while PTR had counted 238 elephants in the reserve.
Dalma wildlife sanctuary in Jamshedpur will, however, go for direct sighting method of elephant census. "We will go with traditional method of elephant census. Direct sighting method is suitable here, as it is a hilly place," said Kamlesh Pandey, field director elephant project Dalma.
Spread over 195 sqkm, Dalma wildlife sanctuary is home to resident as well as migrating elephants. A large number of elephants from Odisha, West Bengal and other parts of Jharkhand take shelter in the sanctuary during summer, when water is abundant. As per the 2012 Census, the sanctuary has 156 elephants.