Jharkhand: Tribals hold police, district officials hostage in late-night drama
Thousands of agitators detained a team that visited Kanki Siladon on Thursday night to remove a barricade aimed at 'protecting' the village from outsiders.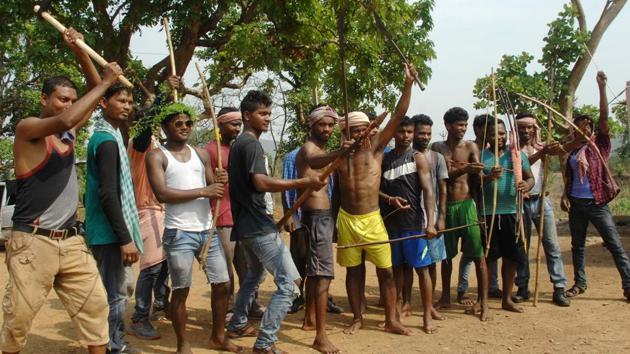 Updated on Aug 25, 2017 11:37 AM IST
Hindustan Times, Ranchi |
B Vijay Murty
Thousands of tribals armed with traditional weapons held several senior police and administrative officers hostage at Kanki Siladon, a tribal hamlet in Khunti district, through Thursday night.
The district superintendent of police (SP), deputy superintendent of police (DSP), a couple of executive magistrates and at least 50 armed CRPF jawans were among those detained overnight. The tribals were demanding self-rule, besides a ban on outsiders entering their villages.
The officials were released on Friday morning, after deputy inspector general (South Chhotanagpur) Amol V Homkar and Khunti deputy commissioner Manish Ranjan intervened. They reportedly accorded the agitated tribals a patient hearing before advising them against resorting to vigilantism.
Tribals in the state have been agitating ever since the Raghubar Das government tried to amend the CNT and SPT Acts, two age-old legislations meant to protect their tenancy rights. Fearing that the government would try to take away their land, inhabitants of tribal settlements across Khunti, Gumla and Simdega districts have installed huge stone plaques and signboards that warn outsiders against entering, loitering or trying to settle in their territories.
Tribal leaders also contend that the Constitution guarantees supreme executive and judicial powers to their gram sabhas, thereby making legislations passed by Parliament or state assembly legally untenable.
Though the government withdrew the amendment bills following pressure from tribal groups and opposition parties, tribals refused to withdraw their anti-outsider campaign. Besides putting up the stone plaques, they erected barricades on roads leading to their villages – security features that the government adjudged as illegal.
On Thursday evening, Khunti DSP Ranvir Singh received information that the residents of Kalki Siladon and several neighbouring villages had installed barricades at their entrances. He immediately left for the spot with a small group of armed police personnel, and removed the structures.
The tribals, however, refused to take the administrative action lying down. Within minutes, the team found itself surrounded by hundreds of agitated villagers – some of whom began pushing the policemen around.
A distress call was made to the nearest police station, which immediately deployed a team of CRPF jawans – along with the sub-divisional officer and the circle officer – to the spot. But the crowd had multiplied to thousands by then, and the back-up team was overpowered too. Even superintendent of police Ashwini Kumar, who reached the spot an hour later, was detained.
Around 2 am, DIG Homkar arrived at Khunti with more reinforcements. However, they could not proceed further because the villagers had barricaded the entire route leading up to Kalki Siladon. After a few hours, he finally managed to initiate talks with the agitators.
"We managed to get through to their leaders by early Friday morning. The situation is now under control, and the officials held hostage are now returning," Homkar told HT.
The tribals have reportedly put forth a number of demands, which police promised to accept if found legitimate. "We will do anything to secure the rights guaranteed to us by the Constitution. We are not afraid of the consequences," a tribal leader said on the condition of anonymity.
Hundreds of unofficial barricades – called pathalgadi in the local dialect – have come up in tribal-dominated districts over the last four months.
Thursday night's incident served as a chilling reminder of the fate that met nine outsiders at the hands of frenzied tribal mobs in adjoining districts of the state earlier this year. The victims, accused of being child abductors, were allegedly spurred on by a tribal group called the Adivasi Mahasabha.
Tribals account for 26% of Jharkhand's population.
Close Story