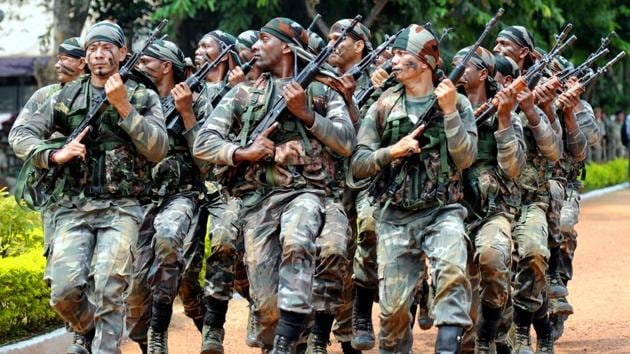 NIA, security forces cast net to catch elusive Jharkhand Maoist leader
Maoist central committee member Sudhakaran Reddy carries a bounty of Rs 1 crore.
PUBLISHED ON NOV 23, 2017 08:09 PM IST
The National Investigation Agency (NIA) and security forces in Jharkhand are working on parallel tracks to choke funding sources of the CPI (Maoist) and crush the left-leaning insurgents with force.
Security forces are conducting a combing operation in the Burha Pahar area of Latehar, said to be a Maoist hotbed.
The NIA, the country's anti-terrorism agency, has launched an offensive on financial sources and channels of Maoist central committee member Sudhakaran Reddy, who carries a bounty of Rs 1 crore.
The operations complement the Jharkhand government's target of wiping out Maoist rebels from the state by this December-end.
The NIA began investigating financial links of Sudhakaran after the arrest of his brother, B Narayana, and aide Satyanarayana Reddy in Ranchi this August. The agency's sleuths twice raided locations suspected to be funding sources of the rebel leader in Jharkhand's Gumla district.
On Wednesday, the NIA raided the house of private contractor Manoj Singh in Gumla. Singh is accused of laundering Sudhakaran's money earned through extortion.
NIA sources said the clampdown on Sudhakaran's financial sources was one of the key objectives of the raids.
Sudhakaran, originally from Telangana, is one of the five central committee members of the CPI (Maoist) in India. He has been spearheading the rebel movement in parts of Jharkhand.
Police sources said he was camping at Burha Pahar in Latehar, where Jharkhand Jaguars, Central Reserve Police Force (CRPF), CoBRA and Jharkhand Police are jointly conducting a manhunt.
The security forces plan to evacuate 15 villages in the area, which indicates a major offensive against the rebels is on the cards.
The state government cleared on Tuesday a proposal to set up a permanent police base in Burha Pahar and sanctioned Rs 25 crore to meet exigencies related to anti-insurgency operations.
"Sudhakaran is one of the faces of Maoism in India, but our offensive is not targeted particularly against him. The NIA is doing its job and we are doing our job separately," said additional director general (operations) RK Mallick, who is also the Jharkhand police spokesperson.
According to the Union home ministry, 21 of 24 districts in Jharkhand are affected by insurgency. Other than the CPI (Maoist), around 17 splinter groups are active in the state.
Close