No land for graveyard, Jharkhand tribe bury their dead near homes
Updated on Mar 03, 2017 12:08 PM IST
The Birhors earlier used to throw dead bodies from hills as they were a nomadic community, moving from forest to forest in search of food.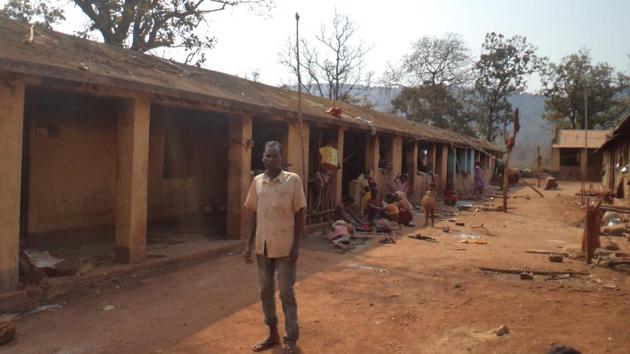 Hindustan Times, Jamshedpur |
, Jamshedpur
Manoj Choudhary
A tribal group in Jharkhand, who used to lead a nomadic life in forests, are burying their dead beside their houses as they cannot afford to buy land for graveyard.
The Birhors, a particularly vulnerable tribal group (PVTG) found in the forests of Saranda in West Singhbhum and other districts, have been doing this in their colonies in Tatiba, Kundrugutu, Kayra and adjoining villages of Saranda.
The issue assumes significance as Prime Minister Narendra Modi had hit out at the SP government last month, saying there should be no discrimination in allotment of land for final rites. "If you create kabristaan (graveyard) in a village, then a shamshaan (cremation ground) should also be created."
The Birhors are a dwindling race in Jharkhand, accounting for only 0.06% of the 86,45,042 overall tribal population in Jharkhand. Due to archaic modes of living, coupled with acute poverty and malnutrition, these tribals often die prematurely battling trivial diseases like malaria and typhoid.
The state government runs various welfare schemes to save the tribe but majority of them are still cut away from the mainstream.
Though the administration has given them residences under the Indira Awas scheme, most of them prefer their crumbling wood shanties. When a death occurs, they bury the bodies behind their shanties or Indira Awas homes.
"The government has not allocated us land for graveyard. So, we bury all the bodies in our colonies, near to our homes wherever we find little vacant land available," Vishnu Birhor of Tatiba village said.
Another member of the community, Tulsi Birhor said that during her grandparents' time, Birhors used to throw dead bodies from hills and wild animals would devour them later.
Birhors were initially a nomadic community who used to travel from one forest to another in search of food. Finding it difficult to carry the ill and the old, they would wait till the old died and later threw their body from hill.
However, over the last couple of decades, the government launched various schemes to get these nomads to settle. Besides homes under the Indira Awas scheme, vacant plots were also given to rear goats, poultry and kitchen gardens.
"These vacant plots are now used for burying the dead," Jyoti Meral, former member of West Singhbhum Zila Parishad, said.
With social and political awareness increasing among the community, Birhors of Tatiba have started demanding a plot from the administration for a graveyard.
The administration has agreed to their demand and tasked the gram sabha with searching a land for the purpose. The block development office has assured them funds for graveyard construction after the land is identified.