Not a single affordable housing proposal received from private developers: Naidu
Affordable housing a huge opportunity for developers at the 'bottom and middle of the pyramid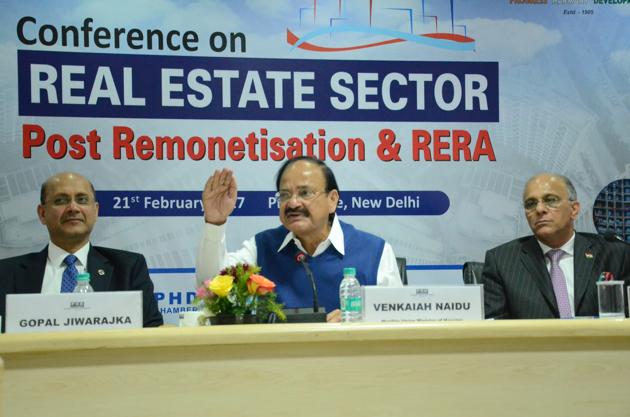 Updated on Mar 22, 2017 06:06 PM IST
Vandana Ramnani, Hindustan Times, Delhi
Expressing disappointment over the lack of interest from private developers for the affordable housing scheme, minister for housing and urban poverty alleviation (HUPA) M Venkaiah Naidu said that not a single proposal has come from private builders for the scheme till date, despite the government granting infrastructure status to the segment in Budget 2017.
Builders should not make any "more excuses" as the government has met their long-standing demand of according infrastructure status to affordable housing in Budget 2017, he said addressing a conference on Real Estate Sector Post Remonetisation and RERA under the aegis of PHD Chamber of Commerce and Industry in the Capital today.
The ambit of the scheme has now been extended and covers people with incomes of up to Rs 18 lakh per year. "So, the opportunity is knocking at the door. Now, it is for developers to rise to the occasion after the infrastructure status has been given to affordable housing, Real Estate Act and remonetisation. No more excuses," he said.
"Isn't this a huge opportunity for developers at the 'bottom and middle of the pyramid? In my view, it certainly is. Then what are you waiting for?"
He also pointed out that the government had so far approved construction of over 16 lakh affordable houses with an investment of about Rs 90,000 crore for which Central assistance of about Rs 25,000 crore also has been approved under Pradhan Mantri Awas Yojana (PMAY), adding, "I am rather disappointed that not a single proposal has come from private builders so far even though (PMAY) urban has been designed envisaging a big role for the private sector."
Naidu said the Act and remonetisation will give a big push to the housing sector provided the developers "change their outlook and mindset" and come out with new business principles and models." It is a fact that this critical sector over the years has acquired a certain degree of taint for several reasons that we are all aware of. There is a serious crisis of character," he said, adding that the new realty law aims to bring about transparency and restore confidence among homebuyers.
"The Benami Transactions (Prevention) Act would further complement in this regard. RERA has boosted the entire industry and is definitely proving to be a game changer for the real estate sector," he said.
He also asked Nandita Chatterjee, secretary, HUPA, to convene a roundtable with all developers, banks and housing finance companies to deliberate why no private sector participation has been enlisted under PMAY and delve on reasons for their reluctance to come forward and participate in the scheme.
"This roundtable also needs to discuss ways and means, if need be, of improving various components of PMAY (urban) to encourage private sector participation", he said, adding "I would expect this roundtable to come out with appropriate business models so that the goal of ensuring Housing for All by 2022 is met".
He also said that states have been asked to set up a regulator by May 17 this year after which there shall be no extension. "No dilution will be accepted," he said, adding regulation should not become strangulation.
Chatterjee in her remarks explained the merits of Real Estate (Regulation and Development) Act, 2016 saying that its stipulations are equally rewarding for developers and buyers of dwelling units.
In his welcome comments, president, PHD chamber, Gopal Jiwarajka hoped that with remonetisation picking up pace, the real estate sector would see a correction and supply will eventually match demand.
Vice president of the chamber, Rajeev Talwar congratulated the minister for his proactive approach towards the real estate sector. Among others who spoke on the occasion included chairman, housing and urban development committee and director, PHD Chamber, Manish Agarwal and Ranjeet Mehta.
Close Story