See what happens to real-estate prices when a new district joins a metro region
Making an area part of the greater metro region helps to keep property prices in check. it gives builders an opportunity to build more and also helps buyers to get more options, say experts.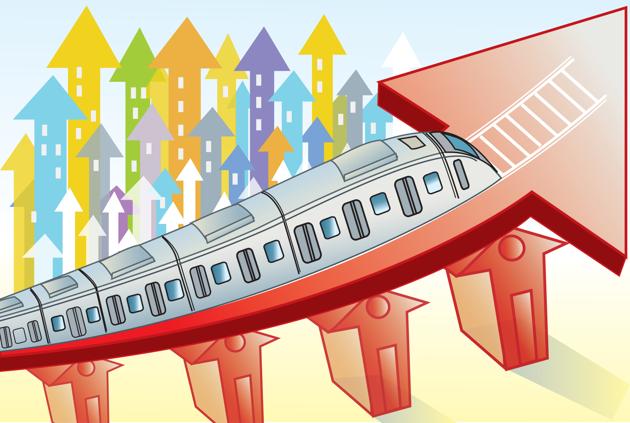 Published on Jun 09, 2018 06:20 PM IST
The number of districts in the National Capital Region has grown from 10 in 1985 to 23 today.
The latest addition was Uttar Pradesh's Shamli district in December; in January, the UP government said it is considering adding Aligarh, Bijnor, Hathras and Mathura too.
So, what happens next? Once a district is included in a metropolitan region, it is entitled to funds for development from the metropolitan planning and development authorities.
This means planned development according to a metropolitan blueprint rather than the jurisdiction of local or rural authorities.
"The original district after being pushed into a new territory is also within the ambit of the latter's municipal bye-laws and gets access to authorities and development plans as an extension of a city," says Ashutosh Limaye, head of research at realty consultancy, JLL India.
There's access to better transportation, as rail, road, Metro, flyover and other such links are extended. Building sanctions and rules regarding FSI and land use come under the ambit of the city's municipality.
For the cities, the integration catalyses economic, social and civic development of the national capital besides generating substantial investments and creating ample job opportunities, adds Anuj Puri, chairman of Anarock Property Consultants.
Paucity of land is a major factor behind new inclusions in areas such as the Mumbai Metropolitan Region (MMR) and NCR. "By making an area part of the greater metropolitan region, more land is unlocked. This effectively helps to keep property prices under check, gives builders an opportunity to build more and also helps buyers in getting more options within the confines of a metro."
Win-win
Globally, the increase in real-estate values is dependent on location, connectivity, proposed infrastructure development, proximity to commercial, educational, health, and recreational centers, the growth potential of the region and the quality of life that it offers residents.
The development of neighbourhoods in and around metropolitan centers in India is also dependent on the same.
Apart from including districts such as Thane, Navi Mumbai, Kalyan, Dombivli, Panvel, Mira-Bhayander, Vasai, Virar, Raigad and Palghar, MMR has witnessed a significant shift in the epicenter of the city northwards over the past two decades, says director of the Real Estate Management Institute, Shubhika Bilkha. "Infrastructure developments such as the trans-harbour Link, Navi Mumbai Airport Influence Notified Area, Virar-Alibaug multi-modal corridor, which were proposed after these districts became part of MMR, will further enhance the development of these regions and their realty markets."
Therefore, for buyers, it not only means access to better transport facilities and infrastructure, but also access to affordable homes since land parcels in small towns open up opportunities for developers to cash in on the affordable house segment. "Hence, property prices start to see firm trends and a structured approach," says Limaye.
Developers agree that the move works for the better for them. "We have access to readymade by-laws, town planning drafts and most importantly, infrastructure," says developer Dhaval Ajmera. "Inclusion within a greater metropolitan area also attracts customers and we can charge according to city rates rather than the prices of smaller towns."
However, it becomes imperative that the government make extensive provisions for the proper development of infrastructure in the newer areas, because connectivity and infrastructure are the major challenges to the growth of these areas, says Puri of Anarock.
Security is another factor. "Areas that are well policed and guarded and have easy access to efficient emergency services are bound to garner more interest from buyers," Puri adds.
Close Story