Mohini movie review: Trisha's horror film is a tragedy
Jul 27, 2018 05:10 PM IST
Mohini movie review: Trisha plays double role in this horror film directed by R Madhesh.
Mohini
Director: R Madhesh
Cast: Trisha, Jacky Bhagnani, Yogi Babu
Rating: 1/5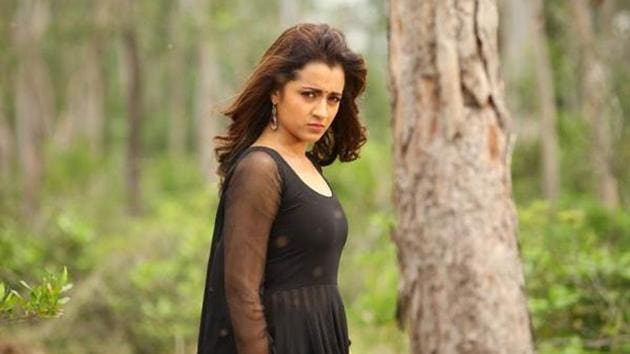 What does audience expect from a horror film? Anticipation that goes on building till you can take it no more and ends in chills and thrills, perhaps. As horror gains acceptance internationally as a genre, Tamil cinema is still caught in the schlocky horror that relies on jump scares and shrieking violins.
Trisha's Mohini, alas, is one more of such disappointing examples. Bereft of both scares and laughs – Mohini is a horror comedy – the film disappoints at every level.
Sloppily made, the film's below par visual effects and terrible post-production work is actually shocking. The fact that a film with such shoddily done work was considered good enough to be shown to the audience is a telling comment on its team.
Trisha plays a double role - Mohini and Vaishnavi - in this film. Killed by goons paid by corporate bigwigs for doing her job, Mohini decides to exact revenge by possessing Vaishnavi, who conveniently looks like her.
Vaishnavi travels to London solely to help her friend get married to the boy she loves. This boy happens to be Yogi Babu; don't get your hopes up for his comic timings cannot salve this movie.
Vaishnavi meets Sandeep, played by Jacky Bhagnani, and they fall in love. Instead of presenting their relationship's natural progression, the director shows us both of them dancing on London streets and the romance is sealed.
Once Sandeep has been established as the hero, he is sent off on business trips till the climax is upon us. In fact, the entire movie at a point seems to be made of props and bad actors. The film is more of a disappointment given Trisha's stunning performance in Hey Jude.
The action is also over the top and beyond comprehension. For instance, Sandeep braves what looks like Niagara Falls to reach a Buddhist temple while his father, played by Mukesh Tiwari, shoots one bullet at a tree and it catches fire.
Follow @htshowbiz for more