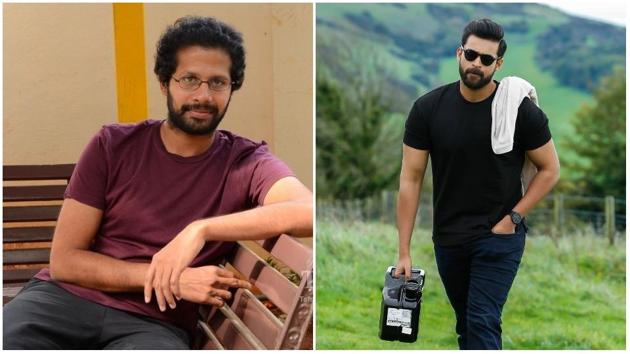 Tholi Prema director Venky Atluri: I was doubtful Varun will come on board as he's from Mega family
In an exclusive chat with Hindustan Times, the director of Tholi Prema Venky Atluri speaks about creating a love story that was more of a journey.
UPDATED ON FEB 14, 2018 04:15 PM IST
Tholi Prema is not just a film, but an experience or a journey.
It is rare when a filmmaker and the audience absolutely concur and that is what director Venky Atluri achieved with Tholi Prema. Venky calls his film a journey and that was the audience verdict as well. Starring Varun Tej and Raashi Khanna, the film is a love story but smartly eschews the girl-meet-boy-meet-trouble route. "I wanted to write a love story that was a journey. Not like a road movie, but the story should travel in time. This idea was stuck in my head since then," he recalls.
So how much of Tholi Prema is inspired from his life? "Especially the part about ragging is taken from my life. I was ragged a lot when I was in college and that influence is present in the film. I mostly tried to incorporate a lot of memories from this period," he said.
And why Varun Tej, was the choice of his leading man due to his previous film Fidaa -- another out-of-the-box romantic film. The director says Tholi Prema was actually narrated to Varun just after Kanche, much before he did Fidaa. He did quip that he had then doubted if Varun would accept the project, especially since he was from the Mega family (he is Chiranjeevi and Pawan Kalyan's nephew). It was Kanche that made Venky reconsider.
"I was initially apprehensive about him (Varun) accepting something like this. I thought he might be inclined to work on commercial films that were more on the lines of action comedy or action. After he heard the story though, he loved it and said yes."
Raashi Khanna, the female lead in the film, is a surprising choice as the actor has so far stuck to purely popcorn action entertainers. So how did Venky zero in on her? He was initially sceptical of casting Raashi in the lead role, only because of the image that she had so far. "I have liked her performances in other films, but when it comes to Tholi Prema, I was frankly scared of how she would pull off three different shades of a character. She had portrayed a teenager, a college student and then a mature young lady. First it was my DOP (Director of Photography George C Williams) who said that he can work on her looks on screen and Varun was also convinced. I trusted their intuition," he said.
Once Raashi was on board, she took the director by surprise. "We started with the part of the teenager and once she suited up for the role, she fit the bill. She surprised me with each scene and she never missed a beat, especially the emotions were en pointe with my expectations. She would know her lines and did it all well," explained Venky.
How did he stay away from clichéd scenes or the urge to make it all fit the label of 'romantic commercial film'? "I never planned to do this film in a certain way. I worked on the story and in the discussion stage, I got suggestions from others, some I did incorporate and some I didn't. Even at the editing stage, I was never forced to make any changes and the final call was always left to me by my producers," he answered.
Also speaking about the producers, this happens to be bankrolled by Sri Venkateswara Cine Chitra. The banner is known for star vehicles and big budget commercial entertainers. For them to choose to work on a subject like Tholi Prema is big. So when asked how this affected making of the film, Venky described that Varun's Tholi Prema was in a way, debut for the banner as well. "They were very careful with the film, as they did not want to make a mistake. They have previously collaborated with both Chiranjeevi and Pawan Kalayan – both were commercially successful. So they wanted to repeat that magic with Varun as well. Not just that, the genre of the film is also new for them."
Telugu film industry in the last couple of years has come up with some interesting new age romantic films like Pelli Choopulu, Ninnu Kori, Fidaa, Arjun Reddy and more. None of these films are like the other and most of these films have been attempted by debut directors. According to Venky, the reason behind this refreshing take on romance could be 'purity' of a first time director. "There is a sense of purity when we enter the field, there is an originality, which might not be there in the second or third film," he said.
Does that mean the industry taints the originality of filmmakers? That is not how Venky looks at it though. "Speaking of myself, this originality might not be there in my next film. For me though, it might convert into maturity. You have to grow, and as time passes, you need to mature. Change is inevitable and if you try not to change, the sameness will not only bore you, but the audience as well," he said.
Tholi Prema has received so much love from audiences and critics, but is the director happy with how the film has come so far or does he have a scene or a frame that he wishes he could change? "No. I do not want a single change as I believe in butterfly effect. If I were to change one thing that might affect another scene and what the film is today is what I dreamt of creating," he concluded.
Author tweets @Priyanka_S_MCC
Follow @htshowbiz for more

Close