Pokemon go, go, go, gone!
Sometimes you don't need a game for catching the real tricksters in life…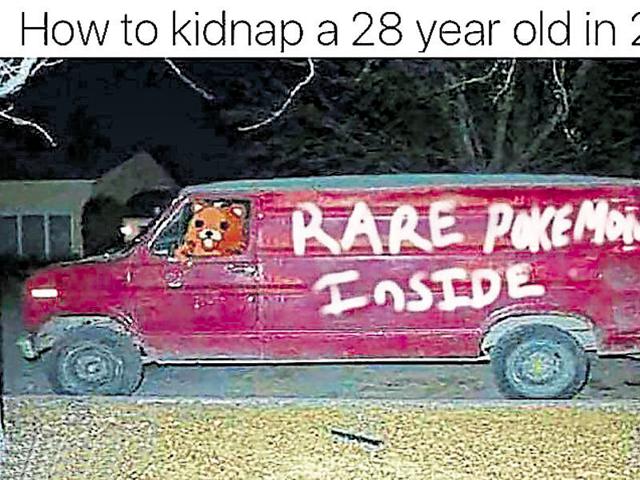 Published on Jul 30, 2016 05:44 PM IST
Haylo you good souls, I'm back with a bang. And suitably chastised by all and sundry for spending time and moolah travelling to the remotest European villages to check out firang cows, when our own are as good, and well, holier.
So much happened while I was away, you know. Modi ji stayed put in India to provide comfort and security to little bro Kejriwal who was scared for his life. Ramdev ji decided to look at the world upside down and got the divine aadesh to debut as world's first footballer in a dhoti. Barkha poured and how, in Mumbai, Gurugram… on Facebook. Kareena Kapoor Khan managed the incredibly rare feat of reproducing and the media fell all over each other to try and get you the first look of the barely existent baby bump. But the most interesting thing that happened while I tried hard to meditate in the Alps was the emergence of Pokemon Go.
Read: A calmer you by Sonal Kalra: You are loud, don't be proud!
Now, unless you were also meditating in the neighbouring cave and the 4G promised by the pixie cut girl in the Ad didn't reach your phone as it almost never does, you've got to know what Pokemon Go is. It's a mobile app game like other games, except that it's not. It makes you look for, and capture, hidden Pokemon characters in the areas around you. So if you see someone walking like a zombie in the middle of the night pointing their phone at bushes and falling into a pothole in the process, that's what they are playing. Apni taraf se banane waali company ne kya teer maara hai…an innovation in augmented reality, a game with a purpose, makes you venture outdoors and actually walk (once the fracture heals). Idiots. Clearly the firangs didn't know that we in India are already used to hunting elusive Pokemons all our lives. My creative consultant Abhishek Duggal, who has become the true savior of this column, implored me to write about our very own desi pokemons. Those who we keep trying to catch but mostly fall flat on our faces in the process. Here we go…
1.The udhaar-wala-friend Pokemon: Do you have a friend who borrowed money last month with the promise to return in a week? Have you been trying to spot him ever since? Sometimes you spot him in the canteen and confidently walk towards him, but wooosh. He's a Pokemon, he wouldn't be caught. These kind of people know the vanishing trick better than any augmented reality scientist can imagine. Keep trying.
2.The true-love Pokemon: Hey you senti one. Look into my eyes. What's the last rom-com you saw..huh? You're looking for true love…the kinds you read about in Mills and Boons or saw in Meg Ryan films. But the Pokemon of true love kept giving you a miss, and you fell into the dirty world of Game of Thrones with a vengeance. Sigh. Keep looking though. I know of some people who were able to capture this one. For a while.
3.The salary-hike Pokemon: Yeh thoda nah milega easily? Now this one knows how to ditch you better than anyone else. You can try hunting for it, spot him grinning behind the shoulders of the HR executive and showing you the tongue, but the moment you go close, he disappears in the dense appraisal cloud. Milega, milega…when you stop playing video games and instead do some work at work.
Read: A Calmer You by Sonal Kalra: These drama queens, I tell you!
So you got the drift, yaar…the Pokemons of our real life are far too elusive and hard to get. But the reward when we indeed get them is way more that collecting points on a dumb screen. I want you to tell me what are the Pokemons you've been hunting for, and let's together find a cool and calm way of catching them. Say what!
(Sonal Kalra just spotted Chaddha ji falling into a puddle of water in the neighbour's garden. He must be looking for the 'common-sense Pokemon'. Unlikely to ever catch. Mail your thoughts atsonal.kalra@hindustantimes.com or facebook.com/sonal.kalra. Follow on Twitter@sonalkalra )
Close Story