Shedding clothes and taboos, Mexican women learn to sext safely
Agence France-Presse |
, Mexico City
Agence France-Presse
Dec 06, 2018 03:17 PM IST
Sponsored by the Mexican government, the free workshop -- organized by women's rights group Luchadoras -- is called "I sext, do you?"
Marytrini Aguilar, a 43-year-old Mexican woman with a stable marriage and two grown children, may not be what most people have in mind when they think of the word 'sexting'.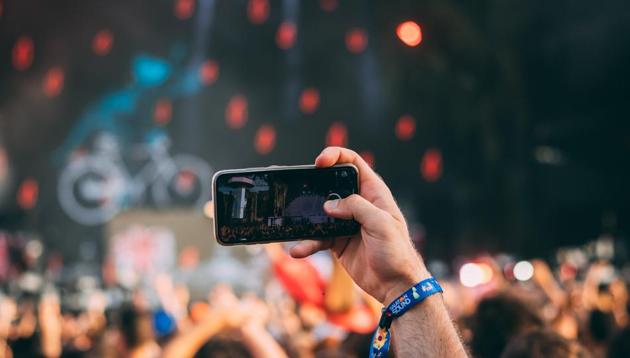 But she is proud to be part of a small but enthusiastic group of women shedding their clothes -- and their taboos -- to explore their sexuality and spice up their relationships by sharing racy selfies snapped on their cell phones.
"Sexting makes me feel free to express my sensuality. It flatters my vanity and makes me feel secure. It pleases me to please the person I'm sending the picture to," Aguilar says.
Aguilar joined seven other women recently for a workshop in Mexico City on sexting safely and responsibly.
Sponsored by the Mexican government, the free workshop -- organized by women's rights group Luchadoras -- is called "I sext, do you?"
It encourages participants to view sexting as a form of freedom of speech and sexual liberation, but also to be aware of the dangers.
"I haven't told anyone about it yet," says Aguilar, who takes pride in subverting the stereotype of a 40-something Mexican mom.
"I think (my friends) do it too, but they would never admit it. They see it as something for young women. Why would a married mother of two do it?" says the tattooed businesswoman, who has a 22-year-old son and 21-year-old daughter, and enjoys sexting with her husband.
She says the workshop -- taught in three four-hour sessions -- made her feel empowered.
"We learned we're all the same, that we all have things to share, to keep exploring our sexuality and sensuality, and that everyone can be sensual," she says.
Sex and technology
But in our hyper-connected world, sex and technology can be a dangerous mix, especially for women.
Intimate messages and photos are leaked online by erstwhile partners so often a term has been coined for it -- revenge porn. Various governments around the world have outlawed it, including 40 US states and countries from Britain to Japan.
Hackers have also made a twisted hobby of breaking into people's phones and stealing their intimate photographs.
In 2014, the problem drew worldwide attention when hackers leaked pictures of celebrities including actresses Jennifer Lawrence and Kirsten Dunst, model Kate Upton and singer Rihanna.
In Mexico, a country with a long history of machismo and alarming levels of violence against women -- seven women and girls are killed here every day, according to the United Nations -- eight states have outlawed revenge porn.
"It really is an attack and an invasion of privacy, and it is widespread throughout the country, on a massive, organized level," says Lulu Barrera, the founder of Luchadoras and leader of the workshop.
She is adamant that women should not be the ones who are shamed in such cases.
"This idea that women who sext... have to be careful, that they shouldn't express themselves sexually... what it does is make them the guilty party and re-victimizes them," she says.
'Amplify your pleasure'
Gisela Rubio, another workshop participant, started sexting at 17.
"Sexting is really beautiful, because anyone can do it. There's no risk of pregnancy or sexually transmitted diseases. You amplify your pleasure and your sexual horizons," she says.
Now 22, Rubio, a psychology student, is writing her thesis on sexting among high schoolers.
She notes that it is nearly always women and girls who are the victims when sexting goes wrong.
"The female body has always been seen as a consumer object for men," she says.
"But instead of saying, 'Don't sext'... we should be making public policies that raise awareness and allow people to do it safely."
Part of the workshop is about learning to exchange images of things other than one's private parts -- a lesson Rubio says men could use to learn, too.
"Maybe your partner would rather explore your back, your legs, your feet, your hands or something else," she says.
The workshop also includes lessons on cyber security, where participants learn about things like metadata, geolocation, apps that let users hide their faces, and secure sexting platforms with secret chats and self-destructing messages.
"Today we are growing up with cell phones in hand, and so we use that technology," says Rio, a photographer who instructs workshop participants on taking nude pictures.
"But we need to stop these (taboos) that amount to violence against young people, particularly young women, who are just exercising their right to use their bodies, their sexuality."