Sluggish Sindhu goes down to Supanida in the first round
Jan 17, 2023 10:54 PM IST
The Thai player's tactical brilliance sends the two-time Olympic medallist packing on the opening day of India Open.
Supanida Katethong dropped to her knees and let out a victorious roar as the shuttle landed wide on her forehand side. Across the net, PV Sindhu cut a forlorn figure. The scoreline of 21-14, 22-20 speaks of a futile late surge, but for the 45 minutes that the Indian and her Thai opponent spent on the court, there was hardly ever a doubt as to who stole the show.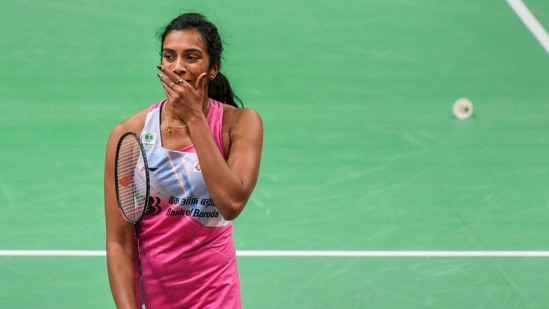 Ranked 30 in the world -- 23 rungs below the two-time Olympic medallist - Katethong exploited Sindhu's sluggishness and evident rust to stun the raucous crowd into silence. With that, India's top-ranked male and female shuttlers ended their India Open campaign on the opening day itself -- world No 9 HS Prannoy had gone down to compatriot Lakshya Sen in straight games earlier in the day.
The Supanida encounter was always going to be a potential banana skin for Sindhu. The 27-year-old had lost to the same opponent at the same venue last year in a three-game semi-final and while Sindhu exacted revenge twice -- at the Syed Modi International quarter-final and Swiss Open semis -- she was stretched to three games on both occasions.
A naturally attacking player who tormented Sindhu with her jump smashes last year, Supanida chucked the tactic completely on Tuesday. Instead, she played Sindhu on the net, asking the Indian to lunge and retrieve while setting her up for an overhead return. Sindhu, coming off a five-month injury layoff following a stress fracture in her left ankle, was way off her best.
Supanida rarely gave her space to attack and punished Sindhu's gentle lobs from the net at will. The first game was particularly chastening when the Thai came flying off the blocks and raced to a 4-0 lead. As the game wore on, Supanida brought out her precise cross court drops that had Sindhu lunging in vain.
"The plan was to play her at the net as much as possible, that's what the coach told me," the 25-year-old Thai said.
Her 9-2 lead soon became 11-4, and although Sindhu pulled it down to 13-11, 18 minutes is all it took for Supanida -- who served a concoction of angles, deft touches, and powerful shots -- to take the first game 21-14, fittingly with another error at the net from Sindhu.
"You have to go in every game with a different tactic. If you are using the same tactic in every match, it'll be bye-bye very soon. I change tactics in every match, sometimes on each point. Everyone knows Sindhu is an attacking player, so I changed the tactics this time," said Supanida's coach Kim Ji-hyun, who coached Sindhu to World Championships glory in 2019, explaining her ward's decision to trade jump smashes for deft net play.
Sindhu's examination at the net continued in the second game, and with drift not being a major factor, Supanida, who had by now settled into a nice rhythm, went about her gameplan.
Two moments stood out in this passage that underlined Sindhu's travails. Trailing 3-5, she was made to dive to her forehand side to retrieve a wicked cross court drop. Her flailing arm could meet only the thin air as stayed on all fours for a few inordinate seconds before slowly finding her feet.
Then, having fashioned a mini recovery and trailing 17-16, Sindhu was faced with another cross court drop, this time the shuttle dying to her left. Again, a full-length dive was not enough and as Sindhu got up, she banged her racquet on the court in frustration.
Still, she managed to take it to 19-all when the Thai player's lift went wide after skimming the net but the latter took the game and match when a Sindhu forehand landed wide.
"I think she played very well. We were prepared for Sindhu because she is such a good attacking player. I think she controlled the pressure situations very well," said Kim.
Saina, Lakshya win
Later, Saina Nehwal rolled back years to beat Denmark's Mia Blichfeldt 21-17, 12-21, 21-19 in 63 minutes to advance to the next round. Visibly lighter and significantly fleeter, Saina showed trademark tenacity to get the better of the world No 24.
"Over the last 2-3 months there has been a gradual improvement in my game. But today I could see that I worked on my stamina and overall hitting game," said Saina who was coming off a tough three-game loss to world No 10 Yue Han in Malaysia.
"I've been getting really tough opponents from the first round, but I have to win some matches to get to the better rounds otherwise I will have to keep on facing tough opponents early on. I have to win such matches to gain confidence against the top 10 players as well," the former world No 1 added.
Meanwhile, Lakshya Sen put up a defensive masterclass against compatriot HS Prannoy to win his opener 21-14, 21-15 in 45 minutes. Prannoy, who had a tough three-game loss to Japan's Kodai Naraoka in Malaysia Open quarters four days back, struggled for rhythm throughout the encounter while Lakshya used the slow court to his advantage.
"I wanted to start from where I left off last year. We know each other's games inside out. It's unfortunate that me and Prannoy were paired in the same group again," said the defending champion.