Substitutes Morata and Fuellkrug help Spain and Germany share points
Published on Nov 28, 2022 02:56 AM IST
This was Germany's first goal from open play in this World Cup. They have point from two games; Spain are on four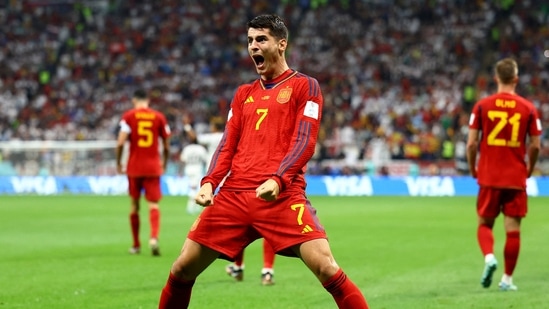 It was night for substitutes. It was a night for orthodox strikers in teams who didn't start with one as Germany took on Spain at Al Bayt Stadium here on Sunday. Alavaro Morata scored first, in the 62nd minute, before Niclas Fuellkrug equalised in the 83rd to give Germany hope when there seemed none.
Morata, who replaced Ferran Torres, scored with a delightful flick fetching up to meet Jordi Alba's ball and getting to it before Niklas Suele could put in a challenge. He now has two goals in two games starting both as substitutes. Fuellkrug's equaliser was powerful blast from inside the area. Antonio Rudiger's burying his head in the scorer's chest showed what the goal meant to Germany who had lost 1-2 to Japan in their opening game.
Till Fuellkrug came on, Thomas Mueller, used a lone striker, could hardly make an impact. From playing in the German second division one year ago, Fuellkrug has helped Germany stay in contention much in the way Toni Kroos' late goal did for them in Russia. The joy then had turned out to be premature though.
The night for substitutes continued when Nico Schlotterbeck put in a superb challenge inside the Germany penalty area to deny Morata from getting the winner. He had played the Spain striker onside so it was on him to make amends and he did it with confidence. At the other end, Leroy Sane, who too had started on the bench, broke free to test Unai Simon in the Spain goal but couldn't pull the ball back.
So, 1-1 is how it stayed at the end. Germany have opened their account and scored their first field goal. Spain moved to four points from two games.
Jamal Musiala got an indication of how the evening could pan when he was harried off the ball early in the game. Soon after, Dani Olmo drew out a save from Manuel Neuer that ensured Germany didn't chase the game as early as the seventh minute. Olmo's shot came through the legs of a defender but despite seeing it late, Neuer managed to deflect it into the horizontal. It was Spain all the way at the start of this game between teams that have won five of the past 21 World Cups.
It wasn't till the 25th minute that Germany got a look at Spain goal after Jamal Musiala and Thomas Mueller combined and forced Simon into a hasty clearance that had Serge Gnabry failing to keep his shot on target. Soon after, it was from a scuffed Neuer clearance that Ferran Torres, found by Gavi, blasted over. When Neuer delayed again, it was Marco Asencio who was on him. Spain don't give you a chance to breathe.
Germany thought they had finally got their campaign running when Rudiger headed in a Joshua Kimmich's free-kick, won after Jordi Alba brought Gnabry down to stop a breakaway move, but the defender was judged to be in off-side position by VAR. Rudiger broke free off another free-kick but his blast from an acute angle was blocked by Simon.
The goalkeepers trying to play out from the back led to another problem, this time for Spain but Simon managed to save a Kimmich effort. Then Morata struck and, in a bid, to ensure they don't lose successive group stage games for the first time, Germany made a triple substitution in the 70th minute. Among them was Fuellkrug.
Before Fuellkrug's goal though Musiala who should be a joy to behold in the near and distant future – there was a moment in the game when he and Gavi battled for the ball; it ended in a tangle but it is a contest that should make international football as thing to look forward to – got on a one-on-one situation with Simon. A good night didn't became a great night because the Spain goalie blocked his shot.
Fuellkrug's goal though meant that after Costa Rica beat Japan, Germany live till Thursday when the final set of group E games will be played.