'When you look at it…': Manchester United legend Wes Brown opens up on Cristiano Ronaldo's Piers Morgan interview
Jan 16, 2023 01:01 PM IST
Manchester United legend Wes Morgan spoke about Cristiano Ronaldo's controversial interview with Piers Morgan and also opened up on Erik ten Hag.
Since the Premier League's resumption in December last year, Manchester United have been in resurgent form and have maintained a winning streak. The competition resumed on December 28, and the Erik ten Hag-managed side began with a 3-0 victory against Nottingham Forest, followed by a 1-0 win vs Wolverhampton Wanderers. After the victory against Wolves, United cruised past Bournemouth on January 4, scoring three goals and then followed it up with a 2-1 derby victory against Manchester City on January 14. The Old Trafford side are currently third in the standings, with 38 points in 18 games, including 12 wins, two draws and four defeats. Although the club has finally begun to dominate this season, it wasn't short of any controversy. Many fans would believe that Cristiano Ronaldo's controversial interview with Piers Morgan kickstarted the renaissance, which also led to the club terminating his contract.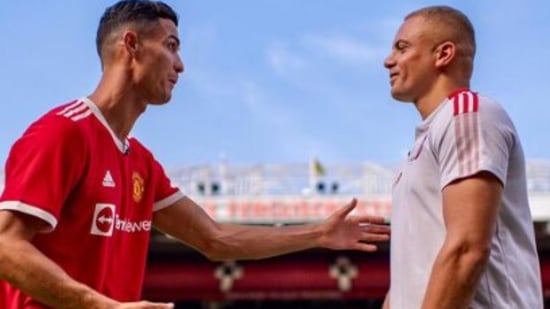 Speaking to Hindustan Times through Marriott Bonvoy in an exclusive interview, former Red Devils player Wes Brown, who is bringing to life exclusive Manchester United experiences available to members of Marriott Bonvoy, analysed Ten Hag's reign and Ronaldo's shocking departure. The 43-year-old also gave some insight into the United dressing room during Sir Alex Ferguson's legendary tenure. During a glittering career, Brown won five Premier League titles with United and also two Champions League trophies. Here are the excerpts-
Also Read | Messi, Argentina face disciplinary action after controversial WC celebration
Q. What are your thoughts on Manchester United's current form after the FIFA World Cup? They have been winning games and Bruno Fernandes has been playing well.
Since the World Cup we have been doing okay. Going into the World Cup and it was one of those times, as I suppose as a fan you wish you didn't have to stop because you could see a nice change with what Erik ten Hag was doing. After the World Cup, I think everyone's come back with a lot of confidence.
We've been able to change personnel a few times and the team is still looking very strong. We've not sort of had that for a long while at United where we changed the team quite a lot and we've not sort of got the results we needed. We've always had to play the strongest 11, but at the moment you can see the confidence going through the team. In lots of positions, and obviously the obvious one is Marcus Rashford, who you can see mentally he's ready this season. He's looking very fit. He's looking to pounce and anything and he's scoring goals. So that's a huge bonus I think for the team. The defense again has been looking exceptional and you know, the way he's changed, he's so sure sometimes maybe gone in the middle. You know, the team still looks strong. We're not letting in as many goals. We've got a few clean sheets now and so I think, you know, the manager's got the team doing very, very well.
Q. Manchester United tried to get Cody Gakpo due to his performances in the FIFA World Cup, but he ended up joining rivals Liverpool. What do you think is going wrong in United's transfer approach and why is the club missing out on key transfers?
It's a tough one, obviously. With Ronaldo gone, we are short a little bit. We've got players there at the moment. But with any sort of injury, you do need that backup. We've been a little bit lucky with Garnacho coming into the side and again, exceptional last night. So obviously he is a wider player. But I mean, I've always said in January, I think it's very difficult. It's going to be a big summer for Man United in the attacking striker sort of sense. They're going to really go for someone, I think who the manager really wants. I think this January, it's a little bit difficult, you know, maybe someone on loan, but we definitely do need someone. You know, at the moment we've been lucky, like I said, that no one's actually got injured because that is somewhere we need to fill.
Q. Why did Cristiano Ronaldo find it hard to adjust with Erik ten Hag and thoughts on his controversial interview with Piers Morgan?
When you look at it, you are half thinking what's going on, you know? I mean Ronaldo, I can. I can understand it a little bit. You know, he's been world class for 15 years. He was top scorer last season, you know he would have been looking to play more games but the manager was looking to change it a little bit obviously. Going forward in the future, Ronaldo would not have been a big part in that because of his age and football moves all the time. But disappointed in the sense that you know it, it couldn't work. They could have both helped each other with games he played or whether it's if he came on a sub.
Just disappointed really and how it all ended and the interview. Ronaldo will always be remembered as a legend in Man United but obviously in the last three months it was difficult for both sides and you know Erik ten Hag changing the way he works at Man United. He's changing the rules, he's bringing some stability back and it was difficult. It's a difficult time in Ronaldo's career, it just had to be now and you know, he's strict. You can see that with, you know, even the littlest things. I think Marcus was late to a meeting, he was dropped. You know, he's bringing back these standards that I think Man United have missed for many years and I do think Ronaldo would have helped Man United for the rest of the season. You know, we would have come on, he would have scored goals. But ultimately Ronaldo wants to play football, he wants to be in the starting XI and that just wasn't to be at Man United.
Q. How did Sir Alex Ferguson prepare you for matches and how did he imbibe the spirit of not giving up, which was reflective in the comebacks during your time with the club?
I think it was easier for me. I had a lot of older players who had won trophies before and so coming into the team at such a young age, the mentality was always there. You always had to be prepared. I do think that you couldn't switch off. I mean, if you had a few bad games you could be out and it would take a while to get back in. But the manager's attitude, the respect that he got from players. The captain Roy Keane was another example of how he would drive through teams. Never stop, keep going until the last minute, we always had that gelled into us. Sir Alex Ferguson is for me the best manager ever. He had a lot of experience with a lot of top-class players. He never gave up and urged us to continue till the very last minute. It is a little bit harder nowadays, especially mentally. When we played, it was just football, there was no social media.
Q. Who was the hardest player you faced in your career?
Can I name two? Zinedine Zidane and Ronaldo Nazario. Both at Real Madrid at that time and completely class players. They were completely above everyone else. Zidane was in a midfield three and I was a right-back, so I was sort of marking him. He was a little bit like Paul Scholes. I was a tackler, but I didn't get many opportunities to get near him. I have watched that game and I have never done anything wrong but I didn't really do my job. Ronaldo scored a hat-trick in Old Trafford. That day the greatness came out. We couldn't do anything and he probably wasn't 100 percent fit which isn't surprising. He absolutely ran the show.
Q. Do you think the aggressiveness and intensity in rivalries between Manchester United and other top English clubs is lacking now?
Yes, definitely. The rules have also changed. I definitely think the rivalry was there between United, Arsenal, Man City, Chelsea and Liverpool. It is still there. You speak to both sets of fans, these are the games they want to see.
Q. Arsenal are currently leading in the Premier League table. Do you think they can end up winning the title or will there be some surprises towards the end of this season?
I have always said Man City, but I can't see Arsenal losing the lead. When you watch them play with that confidence, the way they are attacking and scoring goals, it is going to be hard to shut them off. I still think teams will catch them but at the moment Arsenal under Arteta have been really good. This is why we love the Premier League, nobody expected it.
Q. Do you think Manchester United should sell David de Gea and go for another goalkeeper next season?
For me he has been brilliant. I think it was last week, where the ball went under his feet at the near post for a goal. He is a world-class player, but at some point, we will change the goalkeeper. But I don't think there is any major talk about him not being good enough or we need to change. I still feel he will be here next season.
Q. Do you think Manchester United can qualify for the UEFA Champions League? Who do you think should be the two starting centre-backs for United?
I think we deserve top-four at the moment. I think we will. It is going to be tough because few teams, who you didn't expect to be there like Newcastle United. The way we are playing, I think other teams are going to find it hard to push us out. So definitely if we keep on going like this, the top-four is confirmed. In defence, when Raphael Varane comes back in, it will be him and Lisandro Martinez. Harry Maguire has been playing few games and if needed, the manager will be confident about that. But obviously Luke Shaw also has been doing well at centre-back. The manager has got lots of options which is very good for the team and for him. The main thing is to stop goals and we have done that in the last few games.
Q. How was it playing with Cristiano Ronaldo and what do you think went wrong with him in the FIFA World Cup?
When we look back at Ronaldo, you are going to see statistics better than anyone. You are going to see assists, goals and fantastic ones. It just wasn't meant to be. But in the World Cup, it is the knockout stages and unfortunately, Portugal weren't good enough, just like England, who also have a good team on paper. It wasn't meant to be and ultimately Argentina came out on top. Ronaldo is a football legend who wanted to win the World Cup, but that probably will never happen. He is old now. Once he hangs up his boots, he can look at his career and there are not many who have not done any better.