MotoGP all set to make India debut
Updated on Sep 21, 2022 04:38 PM IST
MotoGP races are normally preceded by Moto3 and Moto2 - junior and feeder categories - which will also be held in India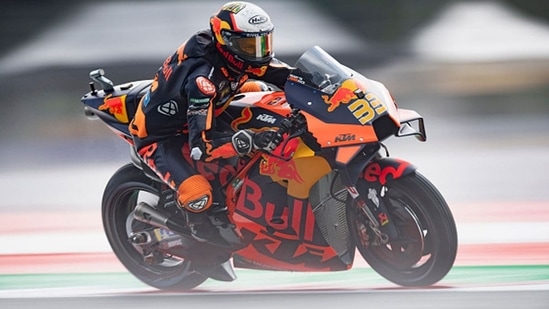 Indian motorsport will break new ground as MotoGP - the pinnacle of two-wheel road racing in the world - will make its entry with the 'Grand Prix of Bharat', most likely to be held in 2023.
Dorna Sports, the international organiser and commercial rights holder of MotoGP, signed a Memorandum of Understanding (MoU) here on Wednesday with Fairstreet Sports, promoters of the race in India, for seven years with the Grand Prix to be staged at the Buddh International Circuit in Greater Noida, once home of the now defunct Formula 1 Indian Grand Prix. Though the promoters are aiming to host the race in 2023, the final decision will only be clear when the international motorcycling federation (FIM) publishes the calendar for next year.
"India is key to our scheme of taking MotoGP sport to new frontiers. All (motorcycle) manufacturers (racing in MotoGP) have an interest in India which is an incredible market for them. MotoGP as a product is meant for India and vice-versa. The match is good," said Carlos Ezpeleta, managing director of Dorna.
While the MoU was being signed, Dorna CEO Carmelo Ezpeleta met Uttar Pradesh chief minister Yogi Adityanath to apprise him of the event. The CM has said that his "government will provide all the necessary support to make this event a huge success".
Formula 1 - the world's premier four-wheel racing - too came to India with a lot of pomp and show 11 years back but lasted only three years - from 2011 to 2013 - despite a five-year contract due to financial, tax and bureaucratic hurdles. Significantly, F1 back then was not recognised as a sport in India which created further logistical hurdles. The Federation of Motor Sports Clubs of India (FMSCI)—the governing body of the sport in the country - got accredited as a National Sports Federation in 2015.
"We have learned from the past. We have requested the Government of India for a single point of contact. They have been very open. The governments, both at Centre and state, have been very supportive," said Fairstreet COO Pushkar Nath. "We have been thinking of bringing the event to India for 2-3 years. There's been a lot of work that's gone into this - compliances, checks, clearances. We first thought of bringing Superbike World Championship which opened the floodgates. India is the world's largest bike-producing market with 24 million vehicles a year. Everyone connects with riding a bike."
Irrespective of when the race makes its India debut, the circuit will first have to be homologated by FIM at least 90 days before the event. "There will be minor changes to the circuit which will be required for motorcycle racing. A circuit that has been able to hold F1 races can also hold MotoGP," said Ezpeleta.
MotoGP races are normally preceded by Moto3 and Moto2 - junior and feeder categories - which will also be held in India. In addition, MotoGP is also planning to introduce MotoE during the Grand Prix of Bharat which could become the first non-European MotoE race. MotoE - an electric motorcycle racing series - started in 2019 and has only been raced in Europe as support races to the main event - MotoGP.
Mahindra Racing is the only Indian team to have taken part during MotoGP weekends. They took part as a team from 2011 to 2014 in Moto3 before becoming an independent constructor till 2017.
Personalise your news feed. Follow trending topics