Roddick rolls at Cincinnati Masters
Updated on Aug 15, 2007 12:51 PM IST
Defending champion Andy Roddick advances without difficulty while Britain's Andy Murray is drummed out with ease.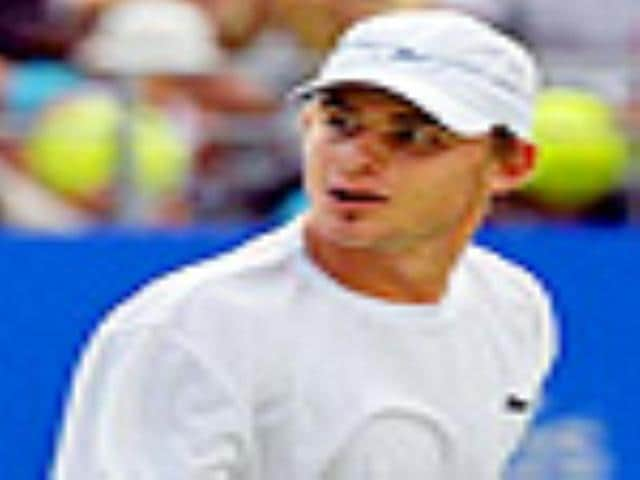 Defending champion Andy Roddick advanced without difficulty on Tuesday while Britain's Andy Murray was drummed out with ease at the 2.2 million-dollar ATP Cincinnati Masters.
Third seed Roddick, given a bye into the second round, booked the first spot in the third round as he unleashed 13 aces to swamp Spain's Fernando Verdasco 7-6 (7/3), 6-2.
Murray continued to struggle as he recovers from a wrist injury, losing 6-1, 6-2 to unseeded Cypriot Marcos Baghdatis, who needed a mere 48 minutes to send the Scotsman to a lopsided loss for a second straight week.
Roddick improved to 8-2 over Verdasco and left the American at 25-5 at this US Midwest tournament, which he won in 2003 and 2006.
"It feels like home here," said Roddick. "That counts for a lot. I got better as the match went on, that's better than the alternative."
After a combatative opening set, Roddick began the second set with a break and added another for insurance to advance in 76 minutes.
"I think my serve also improved," Roddick said. "That's been something that has not worked so well for the last few weeks."
Murray said he will train before going to next week's event in New Haven, his last chance to prepare before the US Open starts on August 27.
"I've only played a few matches since I came back," he said. "The movement and the anticipation are the things that might take a bit of time to come back."
In Montreal, the 16th-ranked standout who missed three months with his wrist tendon trouble beat American Robby Ginepri in his first match back then lost badly to Italian qualifier Fabio Fognini.
"I was hitting the ball harder today off my forehand and hitting topspin returns," said Murray, who was inside the top 10 before his injury in Hamburg on May 15.
"It was definitely better but there's just a lot of things that I wasn't really doing well. I wasn't moving fluidly which is normally the one thing that I do really well."
"Moving badly and not hitting my forehand 100 per cent. The combination of those two things and also playing against a great player like Marcos doesn't help."
Lleyton Hewitt struggled for a shade under three hours to subdue Swiss Stanislas Wawrinka 7-5, 3-6, 7-6 (7/5).
The former world number one, a two-time finalist at the US Midwest event, overcame a patchy day on serve with eight double-faults and just four aces.
Wawrinka, the number two Swiss behind Roger Federer, played the final on clay in Stuttgart against Rafael Nadal last month but has been unable to carry over that form.
The world number 49 has won just one match out of his last four.
Hewitt admitted that he faced a battle, "I'm relieved to get through," said the Australian. "He really took it to me. We both had a lot of chances in the first set, I can't really say there was a turning point."
Hewitt improved to 19-6 at Cincinnati as he works long distance with coach Tony Roche in Sydney during the build-up to the US Open starting August 27.
Roche remains at home awaiting the birth of a grandchild.
Hewitt missed the event last year due to a knee injury which kept him out of the Open in New York.
Mario Ancic, back after six months away with glandular fever, upset Germany's Tommy Haas 3-6, 7-6 (7/3), 6-3 and Argentine Juan del Potro put out Guillermo Canas 6-2, 6-2.
Federer and Nadal learned the names of second-round opponents as Julien Benneteau and Juan Monaco won through.
Frenchman Benneteau defeated Russian Dmitry Tursunov 6-4, 3-6, 6-3 to move into a match-up against Federer while Argentine Monaco faces Nadal by virtue of a 6-4, 6-7 (5/7), 6-3 defeat of Spain's Feliciano Lopez.
Robby Ginepri became the third American into the second round with a win over Swede Jonas Bjorkman 6-3, 6-3.