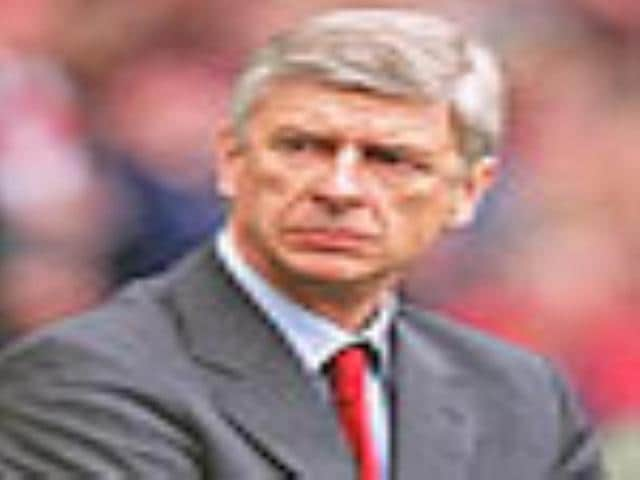 Wenger want from P L bullies
Wenger has always railed against the lack of protection given to Arsenal, now he has the statistics that prove this.
UPDATED ON MAR 01, 2008 08:21 PM IST
Arsene Wenger believes Eduardo's horrific injury was the inevitable result of Arsenal being singled out by teams who try to rough them up.
Eduardo will be sidelined for at least a year with a broken leg caused by Martin Taylor's challenge on the Croatian last weekend.
While Wenger is willing to give Taylor the benefit of the doubt after he insisted he didn't mean to harm Eduardo, the Gunners manager is convinced the Birmingham defender's aggressive attitude stemmed from a widespread belief that Arsenal can be bullied.
The Frenchman stopped short of openly accusing Birmingham manager Alex McLeish of telling his players to kick Arsenal.
But he made it clear he suspects that is the sort of instruction opposing managers give their teams before they face the Premier League leaders.
"We could speak a long time about that. I'm long enough in the game to know what happens in the dressing rooms before the games. At some stage when I'm not in the job any more I can talk to you about it," Wenger said.
"It's not down to my responsibility to think about other teams. I ask my teams to play football and what the other managers do is down to their responsibility."
Wenger has always railed against the lack of protection given to Arsenal. Now he has the statistics that prove his team are more sinned against than sinning.
"The real basic problem in this league is that for the past three years we are the team which has committed less fouls than any other team, the team who is fouled more than any other team, the team who is punished more than any other team - and I do not read that anywhere," Wenger said.
"Facts are facts. Every four fouls, Arsenal gets a yellow card and every nine fouls some other teams get yellow cards.
"The numbers are available for everybody in the OPTA statistics. Look at them.
"I should invite you sometimes to come into the dressing room and look at the legs of Alexander Hleb after a game. You would be amazed. But what is happening is not a surprise to us.
"Don't get me wrong. There are a lot of things I love here, the passion, the commitment. I do not want England lose that, because that is above every other country in the world.
"But it is in the hands of the referee to protect, to make the distinction between how far you can go and what you cannot."
Lost in the drama of Eduardo's injury was the extraordinary reaction of Arsenal captain William Gallas to Birmingham's last minute penalty equaliser.
Gallas stormed away in frustration while the penalty was taken, before kicking an advertising hording and then sitting on the pitch for several minutes after the match.
Wenger insisted Gallas's petulant display was only a sign of his competitive spirit. He said: "He is a guy who is highly committed and sometimes when he goes overboard he can respond like that.
"He's an explosive one. He's a guy who when he is fed up, he is fed up.
"You want people in this job who care. What I hate the most in this job are people who are always nicey nice and behave well. But at the end of the day they cheat a little bit with their commitment.
"I prefer sometimes a guy who goes over board without hurting anybody who cares about winning. That is William, he cares about winning.
"Gallas's leadership qualities for me are outstanding, even if on that occasion he used his commitment in the wrong way."
Close