Telangana assembly polls: Sonia Gandhi to hold first-ever rally in state, release manifesto
Nov 22, 2018 07:16 PM IST
At the rally at Medchal on the outskirts of Hyderabad, Sonia Gandhi will also be joined by leaders of other parties of the Congress-led Maha Kootami (grand alliance) for the December 7 Telangana assembly elections
UPA chairperson Sonia Gandhi will tomorrow address a public meeting in Telangana which Congress leaders hopes will be a game-changer for the party in the December 7 assembly elections as they highlight her contribution to the state's creation. Her rally will also be her first public meeting in the ongoing assembly elections in five states.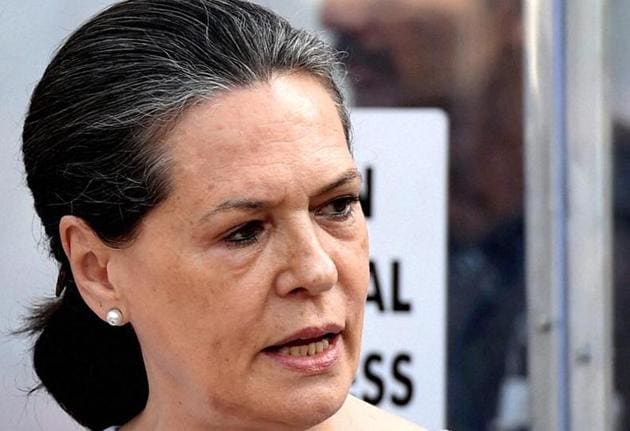 Congress leaders are going all out to make the former Congress president's first-ever political meeting in Telangana, after the new state was formed in 2014, a mega success. "She has not addressed any election rallies so far in the poll-bound states of Madhya Pradesh, Rajasthan and Chhattisgarh. The fact that she has agreed to address a rally in Telangana itself shows how she is sentimentally attached to the state," Congress general secretary in-charge of Telangana affairs R C Khuntia said.
At the meeting, she will formally release the manifesto which, among others, promises waiver of all crop loans up to ₹2 lakh in one spell, filling up one lakh government jobs within a year and increase of retirement age of the state government employees from 58 to 60.
Sonia Gandhi, who will be accompanied her son and Congress president Rahul Gandhi, will spend around three hours in Hyderabad – she will arrive in Begumpet airport by a special flight at 5 pm, will travel to Medchal on the city outskirts by road to address the public meeting at 6 pm and fly back to Delhi by 8 pm.
Top Congress leaders including Ahmed Patel, Veerappa Moily and Jairam Ramesh, besides Karnataka minister D K Shiva Kumar are in Hyderabad to oversee arrangements for the meeting at Medchal. For the first time, leaders of four alliance partners of the People's Front or Maha Kootami including Telangana Jana Samithi chief M Kodandaram, are also going to share the dais with her and address the gathering. The four party alliance is facing some strain over seat-sharing.
However, Andhra Pradesh chief minister and Telugu Desam Party (TDP) chief N Chandrababu Naidu will not attend the rally.
Senior Telangana TDP leader and former MP Ravula Chandrasekhar Reddy said as per the prior understanding between the TDP and Congress leaders, Naidu would not be attending Sonia Gandhi's meeting but would depute his Telangana TDP president L Ramana.
The Congress leaders are trying to highlight the fact that Telangana state would not have become a reality but for the initiative taken by Sonia Gandhi, who was then the Congress president. "Despite knowing that the party would suffer heavily in Seemandhra region, she took a big risk and granted statehood to Telangana notwithstanding severe opposition from within the party.
"This was because she understood the aspirations of the people here and their long-drawn struggle over the years. She was moved by the sacrifices made by scores of youth who laid down their lives for the sake of Telangana. This, we are going to explain to the people," senior Congress leader and PCC treasurer Guduru Narayan Reddy said.
The Congress leader are hopeful that Sonia Gandhi's presence would create a tremendous impact on the people of Telangana. "She would definitely speak about how Telangana Rashtra Samithi government headed by K Chandrasekhar Rao has belied the hopes of the people in the last four years and converted Telangana into his family property. We shall take her message to every nook and corner of the state," the Congress leader said.
Political analyst and former Osmania University professor K Nageshwar said the rally would definitely boost the morale of the party cadre in the Telangana elections, though it might not exactly be a game changer. "Sonia's rally is not the only factor in the elections, as there are various other factors that will influence the voting pattern. So, the Congress cannot say her presence would completely bring a turnaround in its fortunes," he said.
Nageshwar said people of Telangana definitely had a great respect towards Sonia Gandhi as she had granted Telangana, a fact even KCR had admitted on the floor of the state assembly. "Secondly, the TRS would not dare launch a counter-attack on Sonia, as it has done in the case of Rahul Gandhi," he said out.
Meanwhile, Khuntia said Rahul Gandhi would be addressing separate rallies in different parts of Telangna on November 28, 29 and December 3. TDP chief Chandrababu Naidu would also take part in some of his road shows and meetings, he added.