After cricket, Indian flavour in New Zealand's tennis
Updated on Jan 24, 2017 09:55 PM IST
Ajeet Rai recently became the first Indian origin tennis player to represent New Zealand in the junior category of the ongoing Australian Open.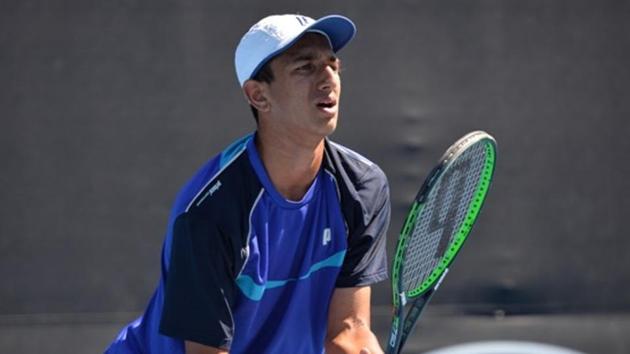 For a rugby-crazy nation like New Zealand where other sports struggle to make a mark for paucity of funds, 18-year-old Ajeet Rai is making waves in tennis. Ranked 92nd in the U-18 ITF junior rankings, Ajeet recently became the first tennis player of Indian origin to represent New Zealand in a Grand Slam event by competing in the junior category of the ongoing Australian Open.
Although he lost in the first round to seventh-seeded Australian Alexie Popyrin 6-3, 4-6, 3-6 on Saturday, Ajeet left a mark with his big serve and ground coverage.
He combined well with doubles partner R Niboer but lost in the second round doubles match to S Hazawa and A Zakharov 4-6,7-5, 7-10 in a well fought battle on Tuesday, with his coach-cum-father Rakesh Rai looking from the sidelines.
Ranked No.1 in New Zealand in the juniors, Ajeet spoke to HT about his experience of playing in a Grand Slam event, from Melbourne. "I was stretched a lot in the first round singles match. Had cramps not occurred, the result of the match could have been different. We gave a tough fight in the doubles second round too but they surged ahead in the deciding set. I have to say my opponents were well prepared and better groomed," Ajeet told HT from Melbourne.
Adding to the cricket connect
From Deepak and Jeetan Patel to Ish Sodhi now, New Zealand has its fair share of Indian-origin players playing cricket for the Black Caps. Ajeet's father Rakesh hails from Kenya, his mother Madhu -a child psychologist – is from Amritsar.
With Tennis New Zealand - the game's apex body in the country - doling out limited funds and resources, Ajeet's parents have taken up the challenge of pushing their son themselves. Rakesh and Madhu travel with Ajeet to various tournaments as his support team.
Based in New Plymouth near Auckland, Ajeet idolises Rafal Nadal and looks up to Leander Peas whom he has met during international tours. He took to tennis as a five-year-old and rose to the top in the sub-junior and junior levels within a few years.
Little support from tennis body
"As parents we have been working hard on his game and making sure he gets the best. But the national body refuses to support the sport. Ajeet had more potential than his singles opponent Alexie Popyrin but he lost the match. The Australian national tennis body grooms such young players well but New Zealand lack in this sport," said Madhu, who visits Punjab often and is very impressed with how the All India Tennis Association (AITA) pushes its players.
"I have still not given up on my Indian passport. A decision on moving to India will be made if required for Ajeet's future. Maybe he can blossom under AITA. Right now we are focusing on getting sponsors for Ajeet," said Madhu.