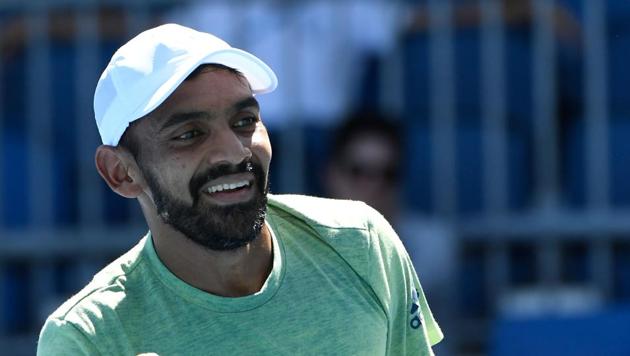 Divij Sharan decides against travelling with India Davis Cup team for China clash
Divij Sharan is not too keen to travel with the India Davis Cup unless he is assured of a place in the squad for the tie against China.
PTI, Tianjin | By Press Trust of India
UPDATED ON APR 01, 2018 03:44 PM IST
The left-handed Divij Sharan, who was a reserve in the Indian Davis Cup team, has decided not to travel for the away tie against China, a move which may soon pave the way for introduction of a code of conduct for players.
The 32-year old Sharan is willing to rush to Tianjin for the April 6-7 tie in case his services are required but his decision has not gone down well with the AITA selection committee.
Sharan is the second-highest ranked Indian player in doubles at number 44 but veteran Leander Paes was chosen ahead of the Delhi player along with Rohan Bopanna, the country's best ranked player at number 20.
Paes is just one place behind Sharan at number 45 but his priceless experience won him the nod of the selectors for the away-tie, in which a win would put India in contention for the elite World Group yet again.
It has been learnt that Sharan was not keen to travel unless he was assured of a place in the playing squad. He may be justified in skipping the tie since there is least possibility of him playing in this tie but a last-minute injury to Paes or Bopanna would put India in spot of bother as Yuki Bhambri, too, has pulled out of the tie due to a minor abdomen injury.
Sharan has communicated to the All India Tennis Association (AITA) that if situation demands, he will travel to China.
While AITA has accepted his request, his move has irked the selection committee and the team management.
"He has written that he wants to stay back in the US and practice there but would be available to fly to China if required," AITA Secretary General Hironmoy Chatterjee told PTI.
An AITA source told PTI that this move by Sharan may hasten the introduction of code of conduct.
"Perhaps time has come that players are told clearly what is acceptable and what not. We are contemplating about a players' code of conduct which will be put in place soon.
"They have to play Davis Cup just one or two weeks in the entire year. We understand that they have points to defend and earn their livelihood but is it really that tough to sacrifice one week for the country," said the AITA source.
Sharan is one of the most improved Indian players of late and has maintained his place in the top-50 after breaking into the bracket in November 2017. This was despite breaking a very successful pairing with compatriot Purav Raja.
He may have felt demoralised that despite being higher-ranked than Paes, he was picked only as a reserve.
Meanwhile, Davis Cup coach Zeeshan Ali said once a player has made himself available for the tie, he should not back out.
"If a player has been chosen, to be in reserve, he needs to be there because if God forbid, a playing member gets injured and we don't have a reserve what do we do.
"If something happens to Rohan or Leander before the draw, to get another player from another Continent, and getting use to the partner and the conditions, it's difficult,"Zeeshan told PTI.
"Divij, Rohan and Leander are not regular partners. Doubles has a lot to do with combining and that's why the team assembles five or six days before the tie. If you are not there, doing practice, it puts the captain and coach in a difficult position to call in a new player, a day before tie."
Captain Mahesh Bhupathi was contacted but he did not respond.
AITA selection committee chairman S P Misra said the matter will will be discussed.
"I feel you should go and practice and get acclimatised to the conditions. It (not travelling) is not advisable. In the next meeting we will have a serious discussion about this," Misra said.
When pointed out that Sharan may have felt let down since he was higher-ranked than Paes, Misra said, "It was an unanimous decision to pick Leander. He was doing well. Irrespective of rankings, Paes is dependable in Davis Cup. He is also near the world record which will be a huge boost to the Indian tennis."
Paes is tied with Italian great Nicola Pietrangeli on 42 wins and a victory in China will make him the most successful doubles player in the history of Davis Cup. PTI AT AH AT AH AH
Close