In tennis, you really can't please everyone: Goran Ivanisevic
Dec 11, 2015 12:33 PM IST
The 44-year-old Goran Ivanisevic is happy coaching compatriot Marin Cilic and guided him to his maiden Grand Slam last year.
"In the locker room, the players dropped whatever they were doing and gathered around the television sets and turned up the volume when Goran was giving a press conference. He handled those sessions like a guy on a psychiatrist's couch, but always with great wit and charm. You never knew what was going to come out of his mouth next – just like you never really knew what was going to melt off his racket in a blur, except for those aces you knew he was always going to hit."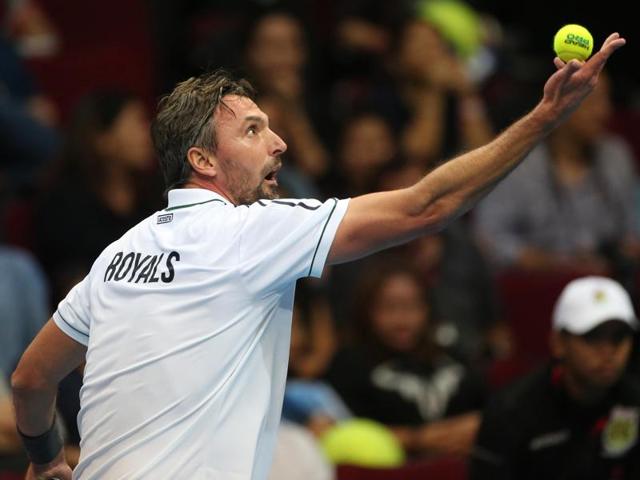 The famous temperament may have mellowed with age and the racquet-breaking days are behind him, but as Pete Sampras describes in his book 'A Champion's Mind', Goran Ivanisevic has lost none of the wit and charm.
These days, the 44-year-old is happy coaching compatriot Marin Cilic and guided him to his maiden Grand Slam last year. But, coming from a generation which saw so much character — from Pistol Pete to the flamboyant Andre Agassi, serve and volley legend Pat Rafter to the calm and collected Stefan Edberg with that magnificent backhand — doesn't he find the new crop boring?
"Today every top star is media savvy, taught the correct answers and let's face it, plays a similar baseline game with little or no variation. One can't have everything," shrugged the Croatian. Turning out for the UAE Royals in the International Premier Tennis League, he beat Thomas Enqvist of the Japan Warriors 6-4 on Thursday. ''First there's no one (who) breaks a racquet, then someone does and then people say why did they break. You can't really please everyone. What you need is good tennis.''
How about a character like Nick Kyrgios then? The eyes lit up and he broke into a smile. ''Nick Kyrgios is good for tennis,'' said Goran. The young Australian of Greek descent was recently in trouble for calling out to Stan Wawrinka during a match. The 'bad boy of tennis' always creates headlines for his sense of fashion, tanking accusations and recently had tongues wagging for flirting on court with Eugenie Bouchard at the US Open mixed doubles. But the latest controversy caused him to be dumped from the Australian Davis Cup team and reprimanded by the ATP. But, the fearless 20-year-old has a strong game and defeated Rafa Nadal to reach the 2014 Wimbledon quarters.
"He is young, has something to be a good player. Sometimes you have to pay for things you do but Nick is good for tennis. Tennis needs Kyrgios," Goran explained and then predicted that after the retirement of the likes of Roger Federer, Nadal and Andy Murray, "the new generation will be wilder. Every generation has something different and the next generation in 10-15 years time will see more action."
The IPTL was first called an exhibition but the 2001 Wimbledon champion refused to believe that. "It's not exhibition. Everyone plays to win. One needs to be quick and fit because the rules are such one can lose fast and easy. But I'm better prepared this year. The rules suit me as I was a fast player," he said emphatically.
With Sampras having called him one of his greatest rivals, Goran smiled. "Unfortunately, I never played him in the first or second round. Always the semis and finals. From the quarters on, Pete was a different level altogether. He is definitely one of the best and unfortunately for me, he always won," stated the 2001 Wimbledon champion.