Opinion | Can Rafael Nadal rise from the ashes again?
In a career spanning 15 years, Nadal has been injured 11 times — a statistic that reflects his hard, uncompromising style of play, and incredibly, on 10 such occasions he has come back within 12-months to win a Grand Slam.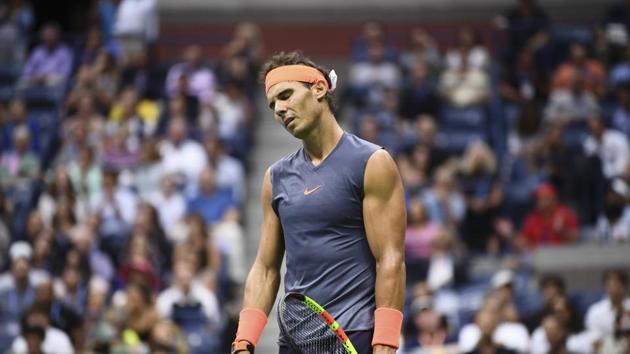 Updated on Nov 18, 2018 01:14 PM IST
Hindustan Times, New Delhi |
Anindya Dutta
If you have seen The Godfather, one of the most iconic movies ever made, you will remember Marlon Brando as Vito Corleone, the scion of the Corleone clan, and Al Pacino as Michael Corleone, but you may not recall the name or the face of actor Abe Vigoda who acted as Salvatore Tessio.
Vigoda's is however a remarkable story, more in his dying than in his living. Between 1982 and 2001 his obituary was written four times. The first time this happened, People magazine was the culprit. Vigoda took the mistake with good humour, posing for a photograph published in Variety in which he was sitting up in a coffin, holding the erroneous issue of People. By 2001, a website was created with only one purpose: to report whether Vigoda was alive or dead. The final and the only accurate obituary was written when Vigoda passed on in 2016, thirty-four years after the first reports of his demise.
In much the same manner, the sporting obituary of Rafael Nadal has been written more than once during the course of his long and illustrious career.
It started early and occurred often as Nadal battled through one debilitating injury after another, each potentially career-ending and collectively representing a lifetime of fruitful engagement for an entire college of orthopaedics.
Every time he was written off and consigned to the sporting crematorium, he rose from the ashes like the mythical phoenix.
Also Read: Injured Rafael Nadal pulls out of ATP Finals
In a career spanning 15 years, Nadal has been injured 11 times — a statistic that reflects his hard, uncompromising style of play, and incredibly, on 10 such occasions he has come back within 12-months to win a Grand Slam.
In 2006, Nadal missed the Australian Open because of a foot injury. Then he went into the clay season, won 24 consecutive matches and all four tournaments he entered, equalling Bjorn Borg's record of winning 16 ATP titles as a teenager. A few weeks later, while winning the French Open for the second time, Rafa Nadal also became the first player to ever defeat ATP #1 Roger Federer in a Grand Slam final.
Greg Garber in his ESPN column wrote: "But at Roland Garros, where the clay dulls his array of gorgeous angles and trajectories, Federer has this little problem. His name is Rafael Nadal, and he has utterly destroyed Federer in the last two championships here."
Three years later in 2009, suffering from severe untreated tendinitis in both knees, Nadal lost a match for the first time at the French Open (to Robin Soderling in the fourth round) and was forced to withdraw from competitive tennis. Federer won the title in his absence.
Just 12 months on, back at Roland Garros, Nadal had sweet revenge on Soderling, defeating him in the finals after the Swede had made short work of Federer in the quarters. He then went on to Wimbledon and beat Murray in the semi-finals and Tomas Berdych in the final without dropping a set against either.
Two months later Nadal brushed aside all opposition on his way to his first final at the US Open, all without dropping a set. In the final, he beat Novak Djokovic in four sets to become only the second man after Andre Agassi to complete a career Grand Slam. In the process he also became the first man to win Majors on clay, grass, and hard court in the same year, and the first to win the French Open, Wimbledon, and the US Open in the same year since Rod Laver in 1969.
In 2012, Nadal's uncompromising give-it-all style of play would again take its toll on his stretched-to-the-limits body. Mental toughness would bow to physical reality. Struggling through the early rounds of Wimbledon, his knees started to give way, losing to Lukas Rasol, ranked 100th in the world.
In his first appearance in 11 months at a Grand Slam, Nadal handed the rampaging bull Novak Djokovic a temporary reality check in four hours and 27 minutes at Paris in the semi-finals, and then made short work of David Ferrer in the final.
Having recovered from knee troubles, Nadal then damaged his wrists… twice. The months of injury and drought would stretch into years.
In 2017, a rejuvenated and fully fit Nadal came out serving with more purpose and power than he had in years. He started hitting his forehands with the deadly accuracy and the 4,900 revolutions per minute of spin (Sampras and Agassi hit at 1,800 and Federer achieves 2,700) that had long been missing from his armoury. The man who had not won a Grand Slam in three long years would win every set he played at Roland Garros, dropping a total of 35 games over his seven matches. In the process he became the first tennis player in the Open Era to win an incredible 10th Grand Slam at the same Major.
Against all odds, in August last year, Nadal took back the world No.1 position from Andy Murray, and finished 2017 still at the top, picking up the US Open crown on the way. He marched to an 11th French Open title this year.
Nadal's ability to bounce back from injuries and attain Grand Slam glory is indeed unmatched in the history of tennis. None of his rivals even come close.
Nadal has been injured 11 times in a 15-year long career. Ten times out of those 11, he has bagged a Grand Slam crown within a year of being injured. Federer, a man with a much smoother style of play, has suffered only eight injuries in a two decade long career, but thrice has been able to bounce back with a Grand Slam within a year of those injuries. Novak Djokovic, the third of the troika, has had to go through four injuries in his career, and only on two occasions has he answered with a Grand Slam over the course of the next year.
And yet incredibly enough, last week at the Paris Masters as Nadal withdrew from the tournament just before his second round match against Fernando Verdasco, having missed the entire hard-court season since retiring from the US Open, the oft asked question popped up again - is this adieu, Rafa?
Vigoda has to be smiling from above as he hums his favourite Bob Dylan line: "The answer my friend is blowing in the wind."
(Anindya Dutta is a banker and a sports analyst)
Close Story