Irregularities worth over ₹100 crore in the production and distribution of take home ration (THR) have surfaced in Madhya Pradesh's nutrition programme, according to the report of state's accountant general.

Updated on Sep 05, 2022 01:50 AM IST
The audit reports were tabled by the government in the Delhi assembly on Tuesday.

Updated on Jul 06, 2022 10:56 AM IST
Although the police are still trying to ascertain the official ownership of the building, senior officers said they will send notices to the agencies concerned for original documentation regarding the construction of the complex, which was built under the Rajiv Ratan Awas Yojna.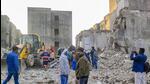 Updated on Feb 13, 2022 04:10 AM IST