Owen Leeper believed the weather was clear when he went skiing. However, in a turn of events, Leeper soon found himself in the middle of an avalanche.

Published on Mar 02, 2023 06:59 PM IST
The search operation for another missing person that was continued for hours was called off due to low temperature and visibility.


Published on Feb 06, 2023 05:53 AM IST
Authorities in Tyrol and Vorarlberg regions have said avalanche risks are high due to wind and snowfall.


Published on Feb 06, 2023 04:56 AM IST
Police said the avalanche was triggered at Affarwat in Gulmarg area. On Wednesday, two polish skiers were killed when they were hit by an avalanche in Gulmarg. Police and tourism rescue teams rescued 19 other skiers.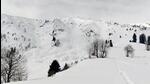 Updated on Feb 05, 2023 03:02 AM IST
The avalanche hit the famous skiing resort at Afarwat peak. Two persons found dead, whereas four people rescued so far.


Updated on Feb 01, 2023 03:29 PM IST