Latest from delhi's trees
CPWD said going by definition, herbaceous "trees" like palm, plantain, and papaya would not be considered trees as their main trunk or branches are not "wood".

Updated on Apr 14, 2023 04:58 AM IST
Advocate Aditya N Prasad, appearing for the petitioner, said authorities had damaged and continue to damage trees while carrying out "deep trenching activity" and "streetscaping" on KN Katju Marg in Rohini.

Updated on Aug 09, 2022 04:16 AM IST
In a report prepared after excavation on day one, the forest department said the 'live' trees found are mostly sheesham and desi kikar, which could be rehabilitated by taking suitable steps.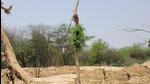 Updated on May 29, 2022 03:11 AM IST