The piece has been authored by Rahul Ray.

When done right, digital transformation can help social sector organisations drive down costs, higher efficiency, service deliver, increase transparency and accountability.

Digital nomads usually have a higher purchasing power and spend an average of around $3,000 a month, which is double what a regular tourist might spend. The new visa hopes to bring in much-needed hard currency by attracting people interested in working temporarily in Argentina.

AP | | Posted by Zarafshan Shiraz
, Buenos Aires, Argentina
The app is available in both android and IOS platform and carries nearly all major content of the interlinked portal of Indian Parliament.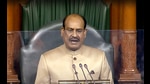 Since quite a few years India has been adopting digital modes in every operation from connectivity, to transactions, to production, to education.