Democratic Gov. Gavin Newsom told state regulators two years ago to adopt a ban on gas-powered cars by 2035, one piece of California's aggressive suite of policies designed to reduce pollution and fight climate change.

Published on Aug 26, 2022 07:17 AM IST
The external affairs ministry recently reiterated India's stand of continued support to Sri Lanka amid the economic crisis in the island nation.

Updated on Jul 16, 2022 04:12 PM IST
Written by Sharangee Dutta | Edited by Chandrashekar Srinivasan
, New Delhi
India on Friday joined a growing number of nations that are taxing energy firms to cope with surging costs. It also increased taxes on gold imports to control the widening current account gap and slow the rupee's fall.

Published on Jul 04, 2022 01:28 PM IST
Japan Airlines said in a statement that it will 'upgrade to fuel-efficient aircraft and for short-haul fleet replacement we are considering the early introduction of new small- and medium-sized aircraft.' It added that nothing concrete had been decided yet.


Updated on Jul 01, 2022 04:54 PM IST
Bloomberg | | Posted by Zarafshan Shiraz
The central government on Saturday decided to reduce RIC on petrol from ₹13 a litre to ₹5, and on diesel from ₹8 to ₹2, which became effective from Sunday.

Updated on May 23, 2022 07:04 AM IST
Effective this week, fuel surcharges will be allowed to exceed the government-regulated price ceiling by up to 10% for jet plane flights in Indonesia and up to 20% for flights using propeller planes

Updated on Apr 20, 2022 08:26 PM IST
Reuters | | Posted by Zarafshan Shiraz
, Jakarta
Petrol, which in Delhi was cut to Rs 81.50 on October 5, cost Rs 81.82 on Sunday. Diesel rates were hiked by 29 paise a litre each on Saturday and Sunday.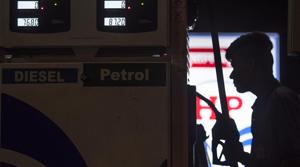 Updated on Oct 07, 2018 03:04 PM IST
New Delhi |
Press Trust of India