A septuagenarian shares anecdotes of his transitioning family over generations.

The grandest building in an Old Delhi neighbourhood of antiquated structures

Quartz and digital clocks, they say, are more accurate but they have depreciated the timepieces and their profession.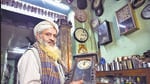 An iconic stall that has survived the pandemic's two surges.

A summer stall as steadfast as the monument beside it.

By
Mayank Austen Soofi
, Hindustan Times, New Delhi