Petrol and diesel prices today: Here's a list of petrol and diesel prices in prominent cities including Delhi, Mumbai, Chennai, Kolkata and others.

Updated on Jul 28, 2022 01:13 PM IST
Petrol prices in Bengaluru on Saturday -
₹
101.94 per litre - were cheaper compared to several other major cities, while diesel was the cheapest.

Published on Jul 16, 2022 02:00 PM IST
By
Yamini C S | Edited by Chandrashekar Srinivasan
Nirmala Sitharaman announced that the government has reduced the excise duty on petrol and diesel against the backdrop of inflation. The excise duty on petrol was reduced by
₹
8 per litre and diesel by
₹
6.

Updated on May 21, 2022 11:03 PM IST
Petrol prices in Bengaluru remained steady at

₹

111.09 per litre on Thursday, the rate which has been maintained in the city since April 7. However, Bengaluru's petrol rates were relatively higher compared to several other cities.

Published on May 19, 2022 01:08 PM IST
Oil companies' revenue losses on sale of auto fuels may jump further as international oil prices surged to $114 a barrel on Thursday session on the back of the EU's move to phase out Russian energy imports.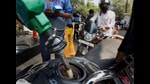 Updated on May 06, 2022 03:43 PM IST