The journalist was booked on the complaint from one advocate in Bilaspur over a news article allegedly run by him on a judge

Updated on Jun 01, 2023 06:58 PM IST
Mr. K. P. P. Shroff, President, Bombay Stock Exchange, interviewed by the Press regarding the recent crisis in the Bombay Stock Exchange said it was due to several outside circumstances over which the Stock Exchange had no control.

Updated on Apr 17, 2023 06:33 PM IST
East Singhbhum's senior superintendent of police (SSP) Prabhat Kumar said police have registered an FIR and investigation is on.

Updated on Apr 10, 2023 10:38 PM IST
Rumors are flying around that makeup mogul Kylie Jenner and actor Timothée Chalamet are dating

Published on Apr 08, 2023 08:00 PM IST
There has been no report so far of valuable items being found in the graves, but locals say many graves located across four cemeteries have been destroyed. Out of more than 250 such graves, about 200 have been vandalised, according to locals and experts.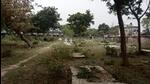 Updated on Apr 21, 2022 01:18 AM IST
By
Aditya Nath Jha
, Purnia