"I took an emotional decision and joined the BJP after some misunderstanding with my colleagues. I will earnestly serve the TMC in whatever role it gives me," Dutta said after joining the TMC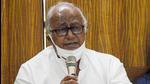 The TMC was quick to highlight images of the pistols being waved around by the bodyguards as another instance of the BJP trying to provoke people into creating an incident.

TMC MP Saugata Roy said that BJP national vice president Dilip Ghosh went to an area in Kolkata where there is resentment for him, and thus the protest was a spontaneous aftermath.

Written by Sharangee Dutta | Edited by Avik Roy
, Hindustan Times, New Delhi
"The BJP threatened him (Mithun Chakraborty) with cases by ED and he left the Rajya Sabha, And now he has joined the BJP. He has no credibility, no respect, and no influence among the people," Saugata Roy told ANI.