The landmark '18 verdict prompted LGBT people across India to seek their rights from courts and society. The key to this advancement were residents of small towns and villages

Updated on Sep 07, 2021 01:06 PM IST
The first failure, the dismissal of the Naz petition in 2004 and the review petition arising out of it in the Delhi Hc on technical grounds, was a big let-down but not for long as the SC set aside the dismissal.

Updated on Sep 06, 2021 02:28 AM IST
Mainstream society needs to step up. It is not the onus of LGBTQ persons alone to struggle and fight for change

Updated on Sep 06, 2021 09:06 AM IST
"Being in the closet oppresses you, it suppresses you, and you can't be the person you are," says filmmaker and now podcast host Mozez Singh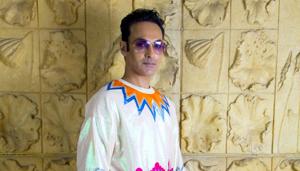 Updated on Dec 15, 2019 12:33 AM IST
The Bombay High Court has discharged a man, who was booked under IPC Section 377 by a woman 10 years ago for having homosexual relationship with her husband.

Updated on Jan 31, 2019 11:55 AM IST
The two women had first met in their college over six years ago, but had to drop out in mid-session after their families came to know about their relationship.

Updated on Jan 01, 2019 07:24 PM IST
Gay sex among consenting adults is not an offence, the Supreme Court ordered on Thursday, reading down a British-era section 377 of the penal code that penalises people for their sexual orientation.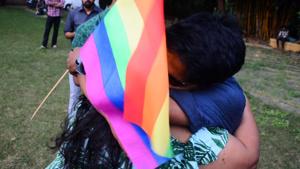 Updated on Sep 07, 2018 08:30 AM IST
A study spanning 19 states in 2016 found strong views against homosexuality, but revealed some interesting trends: 61% of the respondents thought love between two men or two women was wrong. Only a fourth of the respondents approved of a relationship between two men or two women.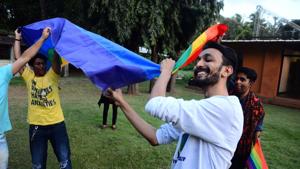 Updated on Sep 07, 2018 09:39 AM IST
The Union health ministry, which has previously backed decriminalising homosexuality and said Section 377 acted as an impediment in making high-risk groups such as men-having-sex-with-men (MSM) come forward to access services, said it is expecting a rise in the number of people seeking support.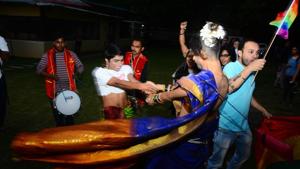 Updated on Sep 06, 2018 11:33 PM IST
The LGBT community in Kerala, the first state to formulate a transgender policy three years ago, hailed the Supreme Court's verdict scrapping the colonial-era ban on gay sex on Thursday and took out victory processions in many parts of the state including Thiruvananthapuram and Kochi.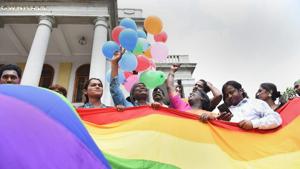 Updated on Sep 06, 2018 05:36 PM IST
The Supreme Court on Thursday decriminalised Section 377 in a big win for the LGBTQ community.

Updated on Sep 06, 2018 01:40 PM IST