Adorable video of a baby elephant in Tamil Nadu forest will make you say aww
Feb 02, 2023 09:24 AM IST
A cute video shows a baby elephant in Tami Nadu's Anamalai Tiger Reserve. As the tiny elephant roams around, her parents keeps as eye on her.
The Internet abounds with several types of content, and the one thing which indeed makes us smile are the cute animal videos. Clips of adorable animals doing their routine things never fail to make us smile. And if you love watching them too, you cannot miss out on this clip of a baby elephant exploring hER surroundings.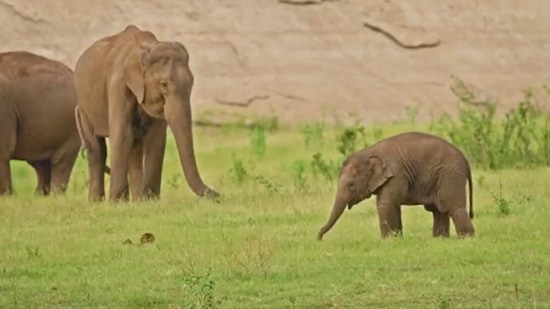 This video was shared by Indian Administrative Service (IAS) officer Supriya Sahu and is originally made by Dhanuparan. The beginning of the clip shows a sweet baby elephant and her family in Anamalai Tiger Reserve. The tiny animal runs around the ground and explores her surroundings. As she is running, her parents keep a watchful eye on her.
In the post's caption, the IAS officer informed, "Cuteness overload. This kutty (baby) elephant in our Anamalai Tiger reserve is having a ball exploring her new world under the watchful eyes of her parents. Most adorable. TN has 5 elephant reserves #TNForest brilliant video by Dhanuparan."
Take a look at the video here:
Adorable, isn't it? This video was shared one day ago. Since being uploaded, it has been liked by more than 700 people. The video has also received several comments.
Here are some of the reactions:
An individual in the Twitter comments section said, "The greener the pastures are, the more joyful the species are!" Another person added, "This cute little kid is getting overjoyed upon seeing her cousin and aunt coming to her house for vacation. " A third person wrote, "Beautiful family."