Man sings male version of Qala's Ghodey Pe Sawaar in viral video, netizens say he's 'real qalakaar'
Jan 16, 2023 02:02 PM IST
The viral Instagram video captures an artist singing a male version of Qala's Ghodey Pe Sawaar, and his comforting voice and soulful lyrics are winning hearts online.
Netflix's Qala has been making waves on social media ever since its release, particularly for its songs that enraptured people. One such song from the film that has been unanimously praised is Ghodey Pe Sawaar. Many have shared their renditions of the song which is beautifully crooned by Sireesha Bhagavatula, competently written by Amitabh Bhattacharya and wonderfully composed by Amit Trivedi. Among myriad shares featuring the song, an artist's version of the song has struck a chord with netizens and is going viral online. The video shows him singing a reply to 'Ghodey Pe Sawaar', and it is too good to miss out on.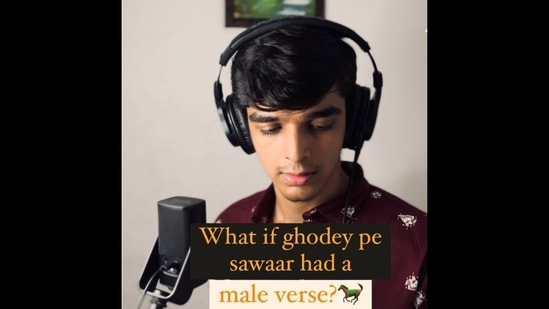 (Also Read: Babil Khan's ode to father Irrfan Khan has left people teary-eyed. Watch)
"Adding a male verse to ghodey pe sawaar! @itsamittrivedi you're a gem," wrote Instagram user Jainam Barot while sharing the video on Twitter. Jainam further mentioned that he wrote the lyrics himself. "Additional lyrics by yours truly," he added. According to his Insta bio, he is a musician. The video opens with a text insert, "What if Ghodey Pe Sawaar had a male verse?" It then shows Jainam singing the reply to one of the most loved Qala's songs. He begins with, "Ham jane samajh hame aaye, sajaniya ke man me thora sa ikraar hai." And his soulful voice and comforting lyrics will surely win your heart.
Watch the video below:
Since being shared six days ago, the video has raked up more than 2.9 million views and the numbers are still going up. It has also received numerous likes and comments.
Take a look at the comments below:
"Songs like this in this generation are still dreams of many," posted an individual. "You're the real 'qalakaar'," shared another. "And now we need a full version!" expressed a third. "It's fun to listen to this version," wrote a fourth. "Wow bro! Kya' Qala' Hai aapke pass (What 'Qala' you have)," commented a fifth.