Old pics of Shah Rukh Khan, Angelina Jolie sharing stage at an award function go viral
Published on Jan 09, 2023 08:18 PM IST
Shah Rukh Khan and Angelina Jolie shared the stage at the first IIFA Awards held in London in 2000.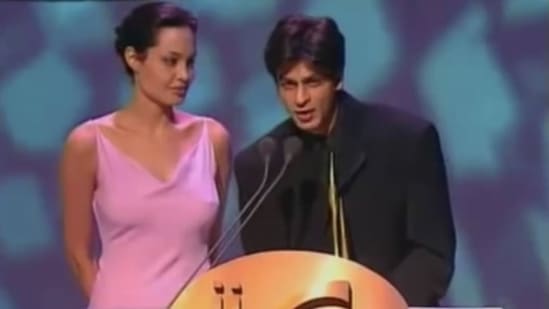 Old pictures of Shah Rukh Khan sharing the stage with Angelina Jolie at an award function have surfaced online and are expectedly going viral all over social media. Shared on Twitter, the pictures have caused quite a stir. While some had no idea about the two global icons ever sharing a stage, others were in awe of how ethereal they looked together.
"I still can't believe it," reads the caption of the photos shared on Twitter. The now-viral pictures are from the very first edition of the Indian Film Academy Awards (IIFA Awards) held in 2000 at the Millennium Dome in London. Several videos from the event shared online show Khan and Jolie walking onto the stage to present the award to actor Aishwarya Rai Bachchan for her stellar performance in the 1999 film Hum Dil De Chuke Sanam. The award was accepted by film's director Sanjay Leela Bhansali on Rai's behalf.
A few seconds later, Shah Rukh Khan joked, "We have to make sure that Angelina knows this (Sanjay Leela Bhansali) is not Aishwarya Rai." Upon listening to this, Angelina burst out laughing.
Take a look at the tweet below:
Since being shared a day ago on Twitter, the pictures have been viewed over 1.3 million times. They have also been liked and retweeted numerous times. Many also took to the comments section to post their thoughts.
Here's how tweeple reacted to photos of SRK and Angelina Jolie sharing the stage at the IIFA Awards:
"WTH, why am I seeing this for the first time today?" posted an individual. "Hello! What?!" shared another. "So iconic and just lovely," commented a third. "This happened!?!?!" wrote a fourth. "Omg!" expressed a fourth.