Union Minister Kiren Rijiju posts clip of monkeys scrolling through a smartphone. Watch
Jan 20, 2023 11:10 AM IST
The clip that is now going viral shows monkeys scrolling through a smartphone just like humans.
A video of monkeys scrolling through a smartphone is the latest viral video that has created a buzz on social media. Shared on Twitter by Union Minister Kiren Rijiju, the clip show a man holding a smartphone in what appears to be a jungle, and three monkeys can be seen scrolling through it curiously. One among them is holding the smartphone, just like humans. They are visibly fascinated with the smartphone and can be seen glued to the screen. Meanwhile, a baby monkey gently calls one of them and holds its hand to divert its attention from the mobile phone.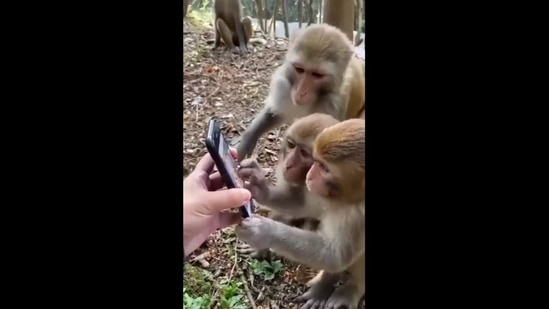 "Look at the success of digital literacy awareness reaching an unbelievable level!" read the caption of the video shared on Twitter by Kiren Rijiju.
Watch the video below:
Since being shared a few hours ago, the video has raked up more than one lakh views and the numbers are still increasing. The share has also prompted many to post their thoughts in the comments section.
Here's how people reacted to the post:
"This is really amazing," posted an individual. "What a wonderful scenario," shared another. "Inquisitive mind and a curious soul. A learning experience for even the primates! The far reaching consequences of knowledge and understanding!" expressed a third. "Their behavior is so cool. Typically they snatch away things. Amazed by the level of focus and curiosity. Love this," wrote a fourth.