Bigg Boss 11 episode 15 written update: Sapna, Akash, Hina, Puneesh and Luv are nominated
Oct 17, 2017 10:07 AM IST
Vikas Gupta tries to make amends with his friend-turned-foe Hina Khan but the TV actor was in no mood to listen to him. Later, Lucinda Nicholas broke down after the housemates voted her out of the Bigg Boss 11.
Despite all the planning, plotting and maneuvering, Bigg Boss housemates are often stuck with surprising twists and shocking turns in the game. As Hina Khan and Puneesh Sharma realised on Monday's episode, Vikas Gupta may have been good to him before he became the captain - not anymore!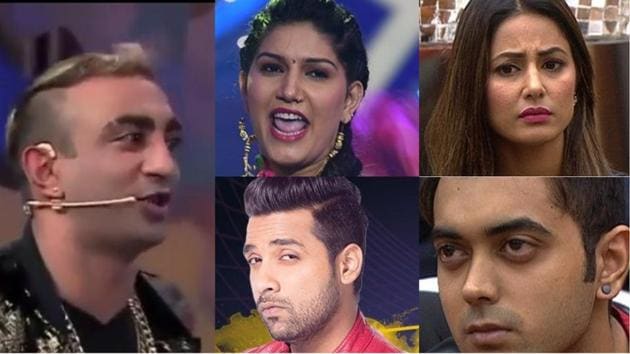 Vikas nominated Hina and Puneesh, contrary to their expectations. And he used his special powers as the captain to nominate them. More than Hina, Puneesh and Luv were upset to see him ditching friends.
Monday's episode began with Bigg Boss making an announcement that the padosis - Mehjabi Siddiqui, Sabyasachi Satpathy, Lucinda Nicholas and Luv Tyagi - have failed in keeping their story a secret. The housemates were given the power of choosing one padosi who would be evicted.
The housemates chose Lucinda to be kicked out of the house and Bigg Boss asked her to leave immediately. Before leaving, Lucinda bid goodbye to the housemates and broke down.
Later in the day, Vikas Gupta tried to make amends with his friend-turned-foe Hina Khan but the TV actor was in no mood to listen to him. Vikas asked her to let bygones be bygones and start afresh but Hina told him, "Mai aapke liye koi stand nahi loongi aur aap mere liye koi stand nahi lenge." Vikas was then irked and left.
During the nomination process for the week, Vikas was given special powers to nominate housemates and the rest would then vote for the ones nominated by him, as he is the captain of the house. The captaincy also saved him from the nomination. After Vikas named Sapna Choudhary, Shilpa Shinde , HinaKhan, Luv Tyagi, Mehjabi Siddiqui, Puneesh Sharma and Akash Dadlani. The episode ended with Akash and Puneesh being upset with Vikas over the nominations.
After the housemates put in their votes, Sapna, Akash, Hina, Puneesh and Luv were nominated for this week's eviction.
Catch all the latest updates from Bigg Boss 11 here.
Follow @htshowbiz for more