Bigg Boss 12 day 51 highlights: Surbhi, Romil, Deepak and Somi vow to wreak havoc in the house
Updated on Nov 07, 2018 01:35 PM IST
Surbhi Rana, Romil Chaudhary, Deepak Thakur and Somi Khan decided to make life hell for the rest of the Bigg Boss 12 contestants after they were nominated for eliminations.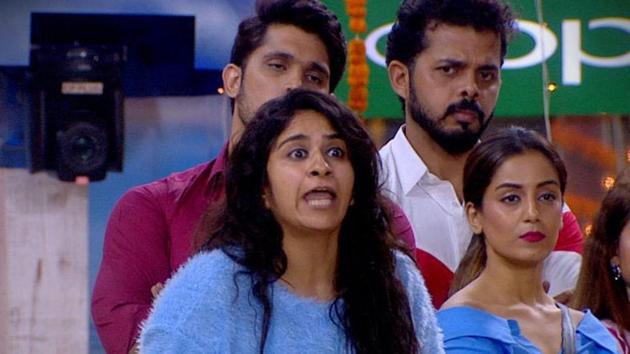 All hell broke loose on Tuesday's episode of Bigg Boss 12 as the Happy Club took an oath to make this week the toughest week of the season before one of them is evicted from the house. As the nomination task continued, Dipika Kakar stepped out to destroy the fourth scarecrow bearing Surbhi Rana's name.
Soon after, Surbhi went on to destroy the remaining scarecrows in a fit of rage. After the completion of the task, all the four contestants nominated for the Weekend Ka Vaar were from Happy Club: Surbhi, Somi Khan, Romil Chaudhary and Deepak Thakur.
The members of the Happy Club vowed to take revenge on each of their targets before the evictions. They made a pledge to make the remaining four days 'hell' for the safe contestants. Karanvir Bohra, who was temporarily nominated by Sreesanth but was later declared safe, assured them his support as they wreak havoc in the house.
Somi targeted Shivashish Mishra and became an obstruction in his exercise routine. The entire Happy Club also came down heavily on Jasleen Matharu and called her a gold-digger. Surbhi targeted Sreesanth and snapped at him after which the former cricketer could be seen crying alone at night.
Bigg Boss announced the luxury budget task 'Ýaha ya waha' the next day. A deserted bungalow was constructed for the purpose and all the contestants had to be lodged there. As per the rules, a contestant could travel to the main house and return with the help of a ticket. The smaller gathering in either of the houses at the end of the task would win the task.
Since Sreesanth ventured out of the house without a ticket, he was disqualified from the task. Rohit Suchanti became the first contestant to go to the main house. He was followed by Megha Dhade and Karanvir Bohra.
A lot of fireworks are expected in the Bigg Boss house as the task will continue in tonight's episode.
Follow @htshowbiz for more