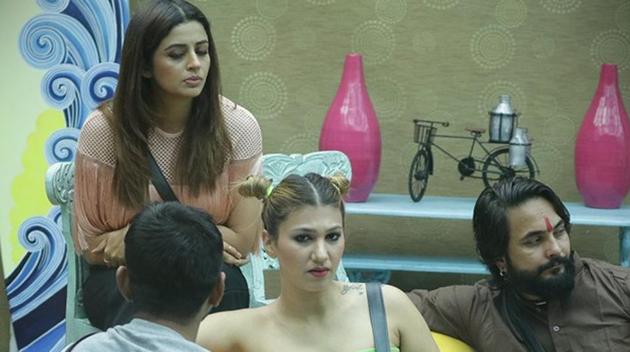 Bigg Boss 12: Twitter calls Anup Jalota-Jasleen Matharu break up PR stunt, her father says we'll know truth soon
Twitter stood divided over the Anup Jalota-Jasleen Matharu breakup while Jasleen's father claimed that she is being true to her real self in the Bigg Boss house.
Hindustan Times | By Ruchi Kaushal
UPDATED ON OCT 03, 2018 04:59 PM IST
The day 15 of the Bigg Boss season 12 left the audience in shock as the anokhi jodi of Anup Jalota and Jasleen Matharu split over a task. Soon after their breakup, Twitter stood divided over the two singers with many calling the break-up a PR stunt. Her father, Kesar Matharu, however, claimed that his daughter is being true to her real self.
Speaking to Bollywoodlife.com, Kesar said on being asked about his reaction to Anup Jalota's decision to end his jodi with Jasleen, "If he has broken the pair, it is his marzi (will)." The senior Matharu has reportedly expressed that he did not have any prior knowledge of his daughter being in a relationship with Anup Jalota. He made it clear, saying, "I will come to know the real story once they're out of the house. It might be possible. I really don't know as of now. We are watching the same stuff as you on TV. I will ask Jasleen when she's out about the real story."
He also said his daughter is being herself inside the house, "She is just like that in the real world. She does not pick up unnecessary fights with people or create unwanted drama. She is quite particular about her dressing. Jasleen loves good clothes since childhood. She can play well on her own too."
On Twitter, meanwhile, some favoured Anup Jalota for taking the right decision, many backed Jasleen for not parting with her belongings and cutting her hair. A large number of the social media users asserted that the senior singer was not being mature enough. A user said on Twitter, "#biggboss12 #Jasleen #AnupJalota to Evryone blaming jasleen, this was not a love test, but a game. Not like he was being tortured, or held hostage forever... Why doesnt he show his love by understanding her? Hair, makeup and clothes are essential for any woman, specially on TV!"
A section of the audience also called the breakup a mere eyewash and claimed that the reality show hosted by Salman Khan was scripted. A user tweeted, "I think he did this breakup purposely. His main motto was to introduce Jasleen and bring her in this show. He did it & it's time for him to leave. His jodi will get less vote & he will do the same as Nirmal did. Jasleen will re enter. That's my take on this"
Since Jasleen refused to give up her clothes or cut her hair to save Anup Jalota from the nominations, the singer doubted her love for him and decided to end their relationship. The fellow contestants tried to convince the seniormost member of the house, but in vain.
Check out what the Twitter users said on the Anup Jalota-Jasleen Matharu split:
Follow @htshowbiz for more

Close