Family Time With Kapil Sharma: Rani Mukerji waited for hours before shoot got unceremoniously cancelled
Kapil Sharma has reportedly cancelled yet another shoot for Family Time With Kapil Sharma. Hichki star Rani Mukerji was expected to shoot with Kapil for an episode of his new show.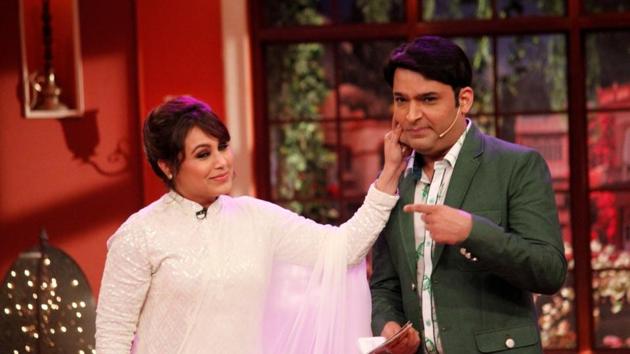 Updated on Mar 28, 2018 04:59 PM IST
Kapil Sharma and Sony Entertainment Television may have refuted rumors that he cancelled a shoot for Family Time With Kapil Sharma with Baaghi stars Tiger Shroff and Disha Patani, but a new controversy is again knocking at their door. It seems the actor and his team have cancelled yet another shoot with Rani Mukerji.
A source close to Rani Mukerji revealed that they had to wait for hours before heading back home without any response from the cannel. The source said, "Our call time was 6 pm but we were prepared since 2 pm for the shoot. We kept waiting till 6 pm, but we were not contacted by the channel or the team of the show. Eventually it didn't happen."
Kapil was scheduled to shoot an episode of his new show with Rani and her young co-stars from the film. He was to arrive on sets at 2pm but was nowhere to be found even at 7pm. Rani's portion was scheduled to be shot from 6pm but she was informed that there will be a delay. Two hours later, she was informed the shoot was cancelled entirely.
It's just been one episode of Family Time With Kapil Sharma, and he has already cancelled two shoots. First with Tiger Shroff and Disha Patani, and the latest with Rani Mukerji and the team of Hichki.
Regarding the cancellation with Tiger and Disha, Kapil had tweeted, "Tiger was never supposed to shoot for our 2nd episode, so shoot cancel hone ka sawaal hi paida nahi hota.kuch to authenticity rakha karo yaar.Twitter kya ab explanation dene ke liye hi reh gya hai?Best wishes to my brother @iTIGERSHROFF for #baaghi2 see u soon bro.. lots of love."
Kapil has previously cancelled shoots for The Kapil Sharma Show last year with Ajay Devgn, Shah Rukh Khan, Manoj Tiwari, Paresh Rawal, Arjun Rampal, Anil Kapoor and Arjun Kapoor citing health reasons. Sony ultimately decided to cancel the show amid falling TRPs. Kapil, in his interviews have refuted the allegations regarding cancelling shows
The pilot episode of Family Time With Kapil Sharma on Sunday got a lukewarm reception from critics and viewers alike. Many complained that the show was boring and didn't enjoy the new 'game show' format of the show.
The show airs on Sony on Sundays at 8pm.
Follow @htshowbiz for more
Close Story