Game of Thrones first official teaser: Watch wolf, dragon and lion get engulfed by fire and ice
Dec 07, 2018 09:58 AM IST
HBO released the first official teaser of Game of Thrones and it shows the final showdown between forces representing ice and fire. Watch it here.
The first official teaser of the upcoming season of HBO's hugely popular Game of Thrones is here. A short, under 40 second teaser, gives a feel of what to expect—the clash of ice and fire in the final season of the show.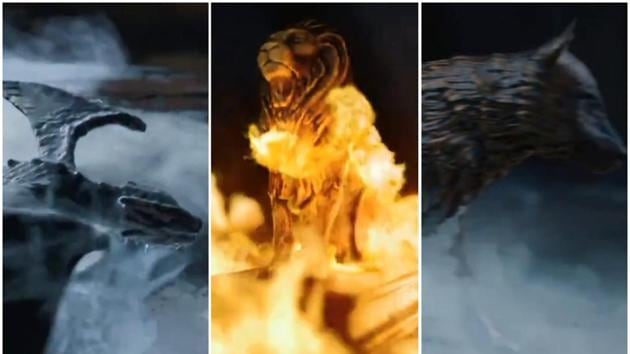 As the teaser opens, we see a great wave of ice spreading across what looks like a stone table with the map of Westeros dotting it. In the process, it first engulfs a wolf (referring to the northern Starks) and swiftly moves in to take in its fold a dragon (perhaps one of Daenerys Targaryen's three dragons, Viserion). Soon, we see a lion, representing the Lannisters, getting torched in fire. In time, the ice meets the fire, in what will be the fight till the finish. Fire in the GOT world represents Daenerys, her dragons and the Targaryens, while ice stands for the fearful White Walkers.
Little has been seen about the show till date; an Entertainment Weekly cover of its November issue had principal character Jon Snow and Daenerys in full gear, looking fiercely at the camera. In many ways, it tells us what to expect: the battle is on and Jon and Daenerys are ready for a fight.
Sometime in August this year, HBO released the first official footage from the hotly anticipated final season which showed an embrace between Jon and Sansa Stark.
However, leaked videos and images from the shoot have been around for a while now; as early as February (spoiler alert), fansite winteriscoming.net, showed the Winterfell set engulfed in flames. Along with pictures, several people also posted videos on social media showing the towering flames burning down the Starks' home.
In mid November, HBO finally revealed the release date for the final season. The eight season of the popular fantasy drama will premiere in April, almost two years after season seven.
Follow @htshowbiz for more